Photos by Adrain Chesser
These People Live Nomadically to Abide by Ancient Native American Principles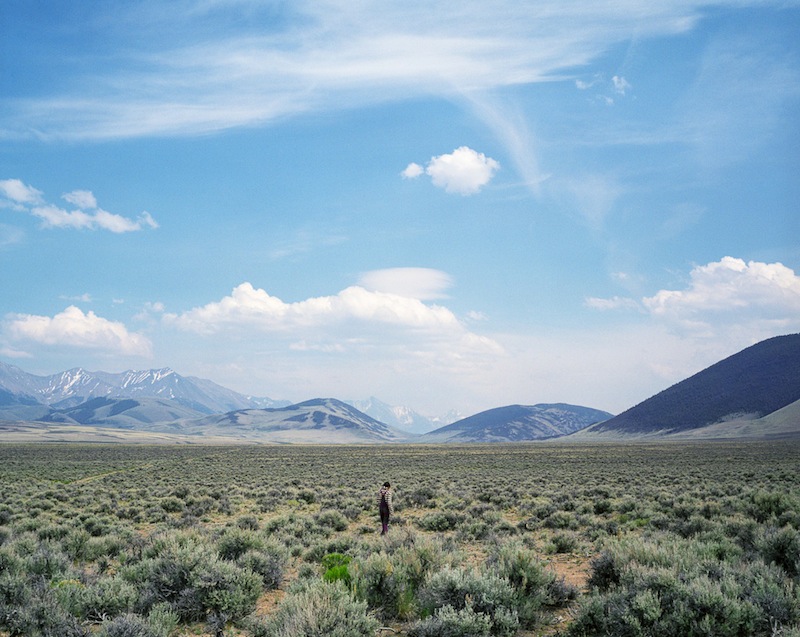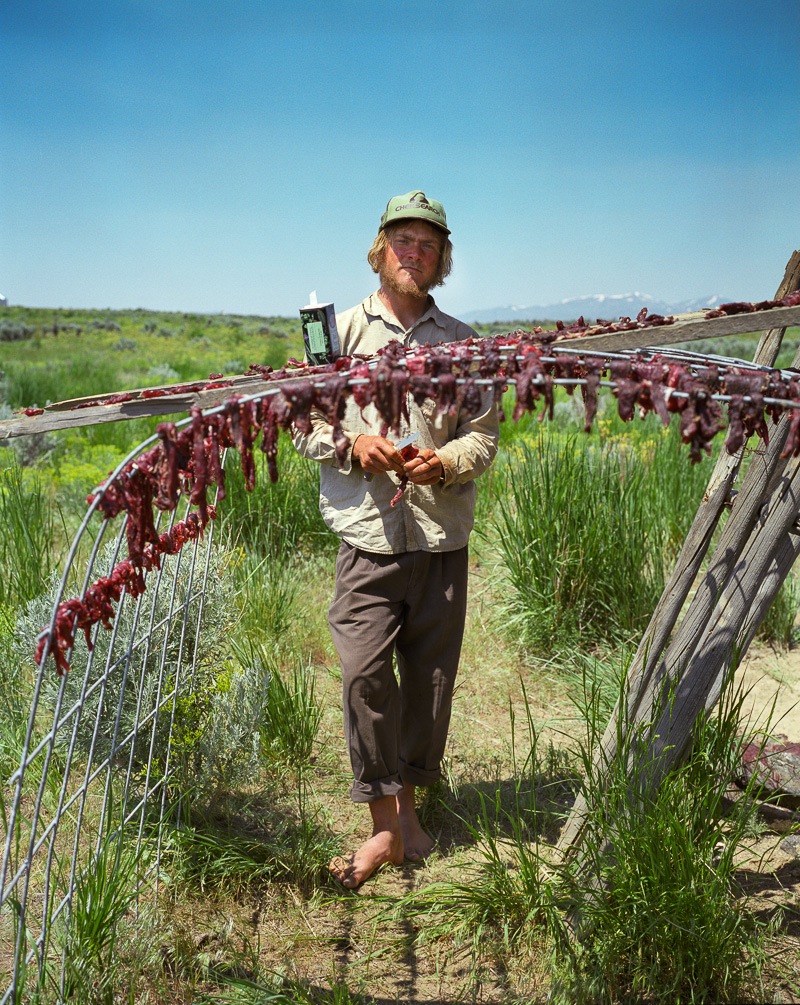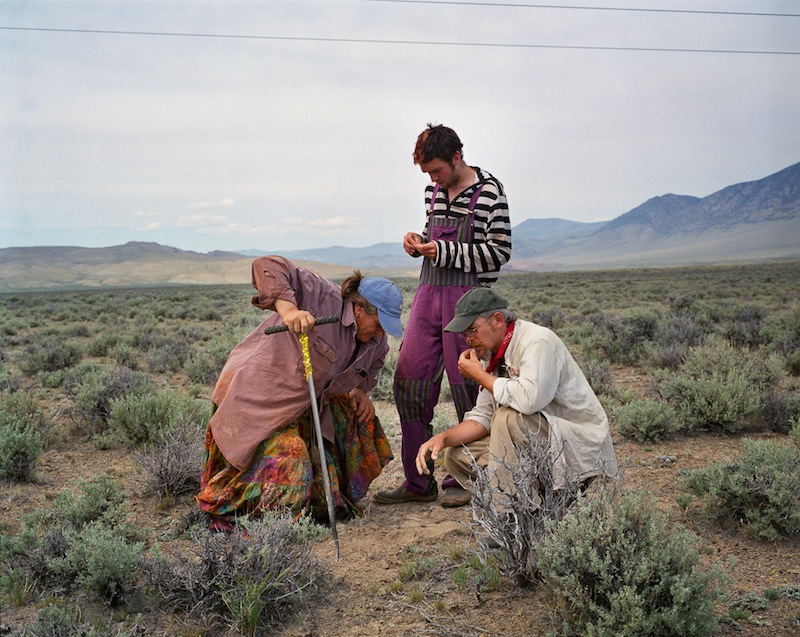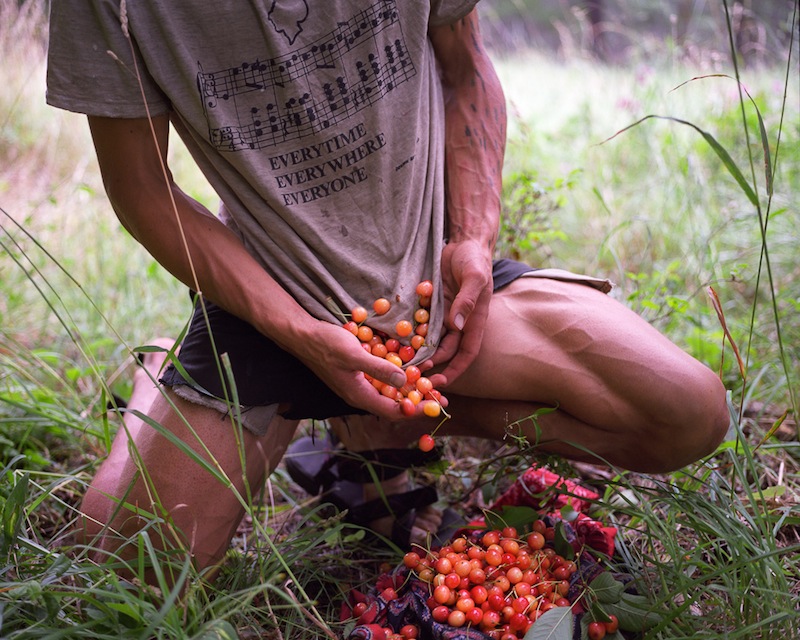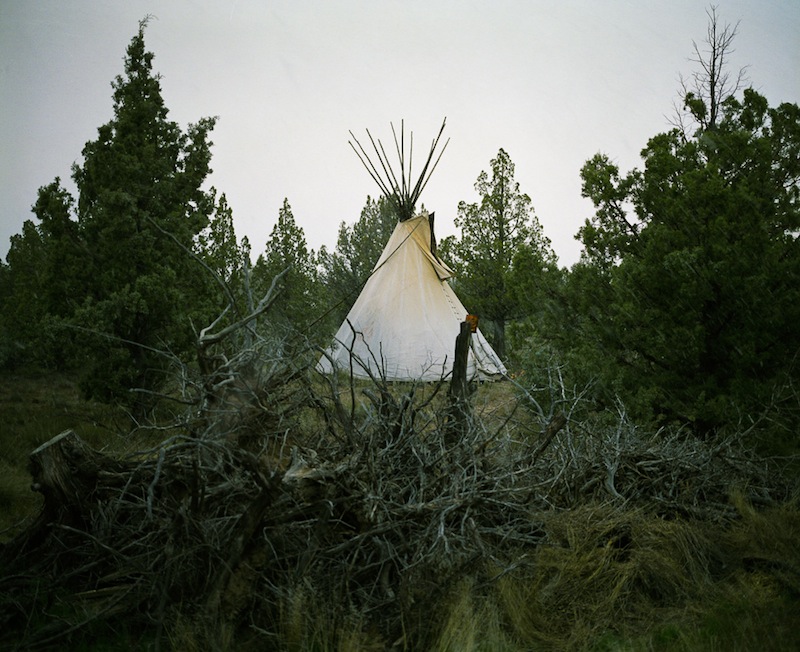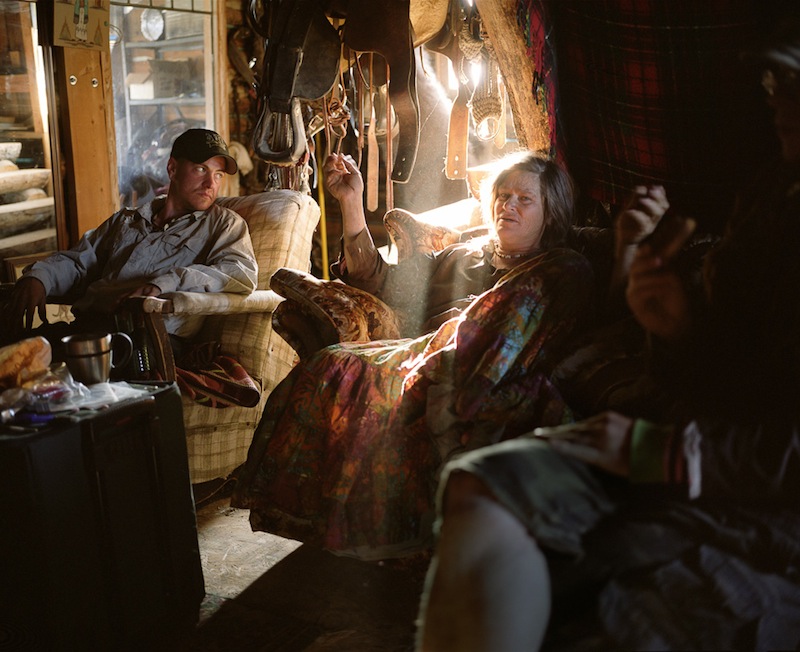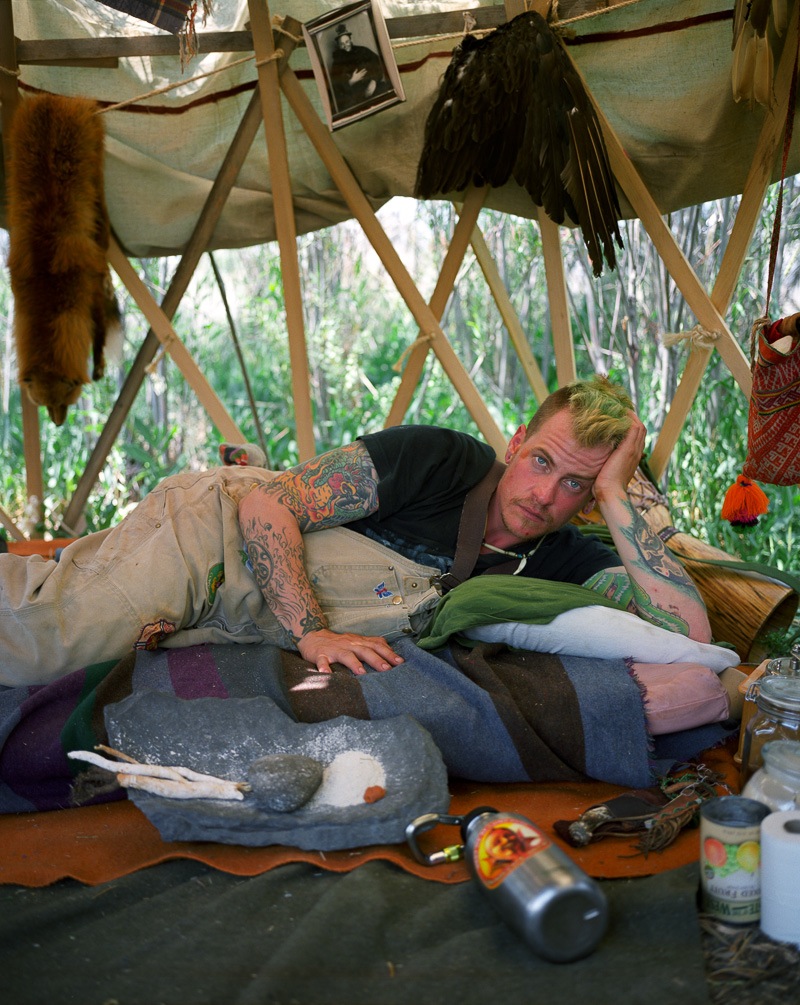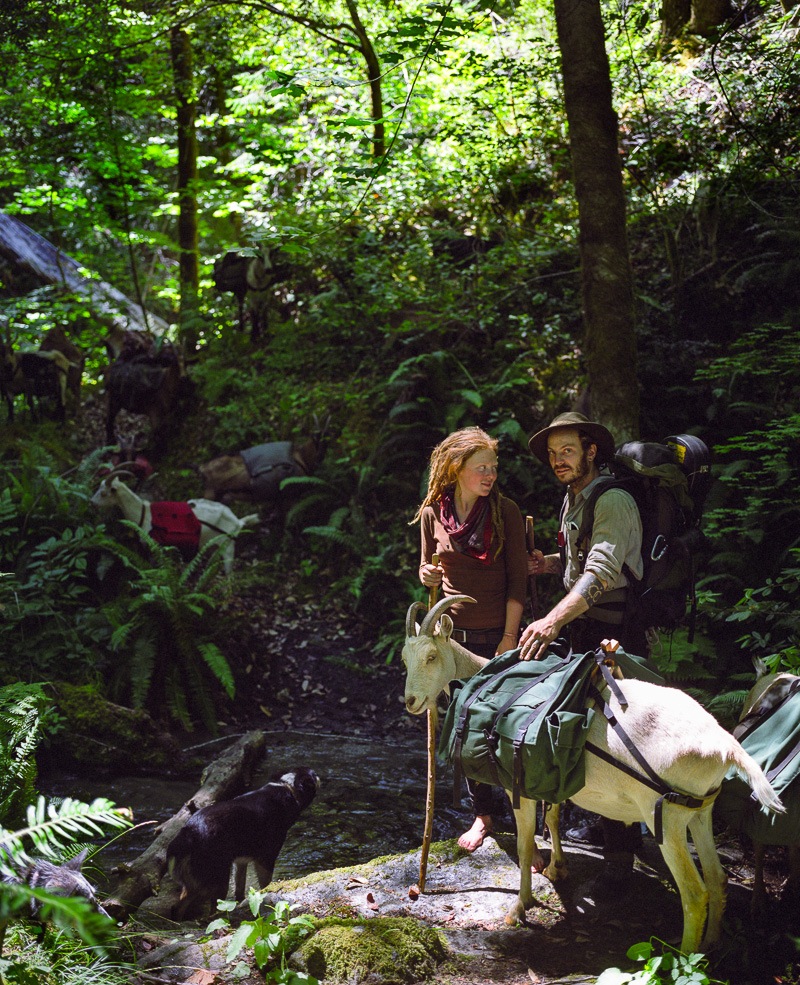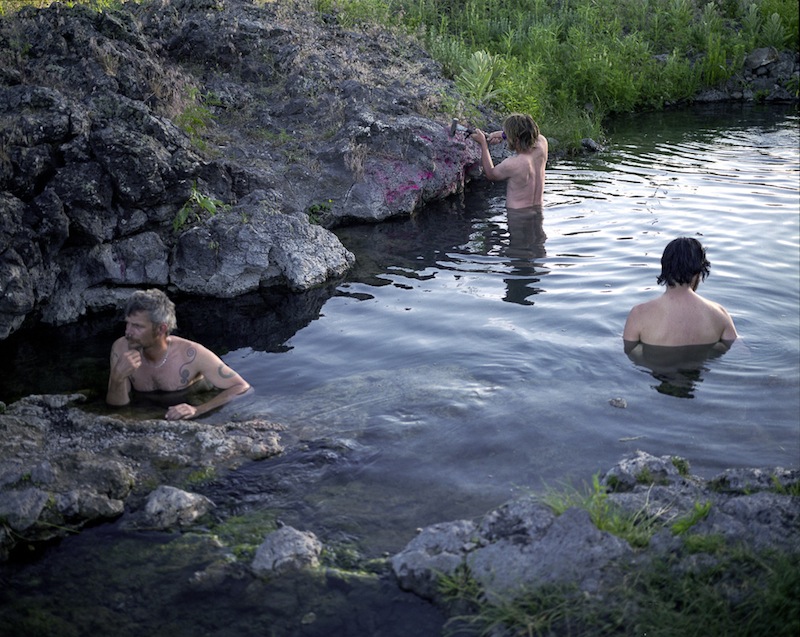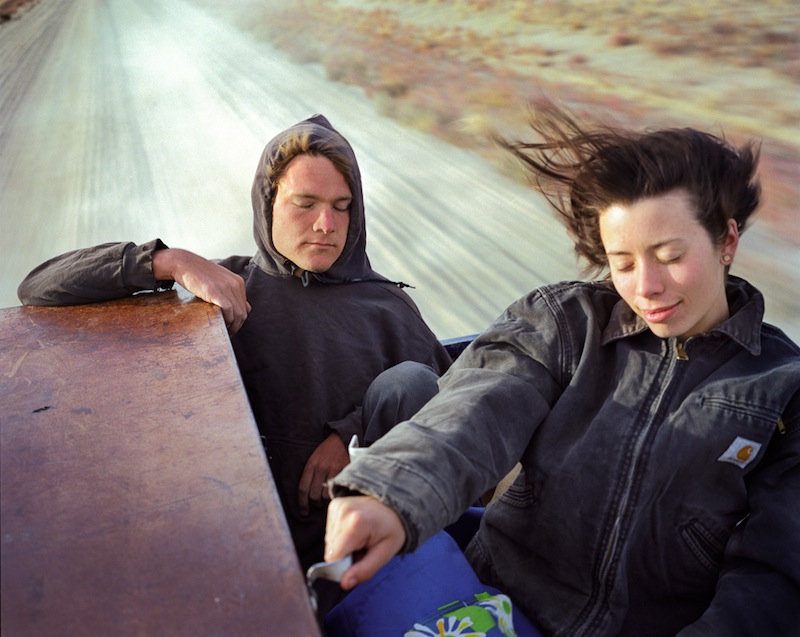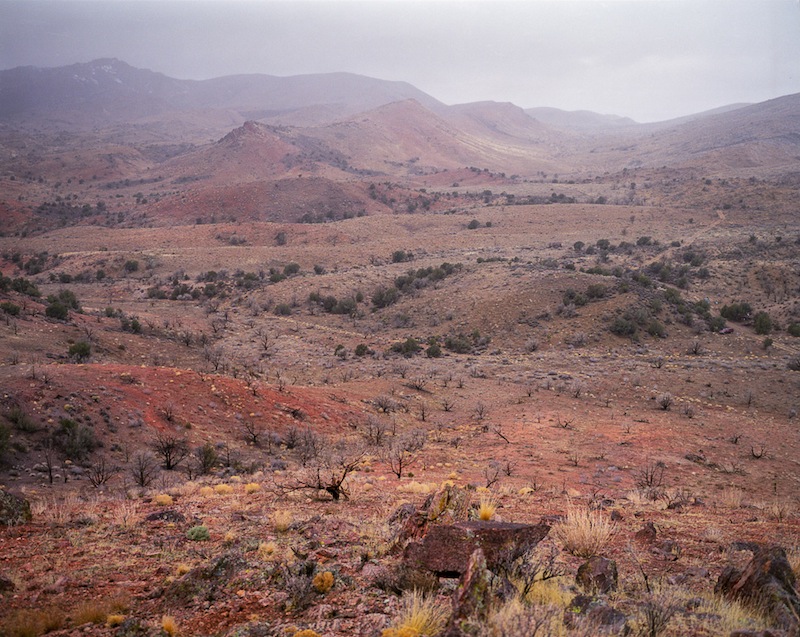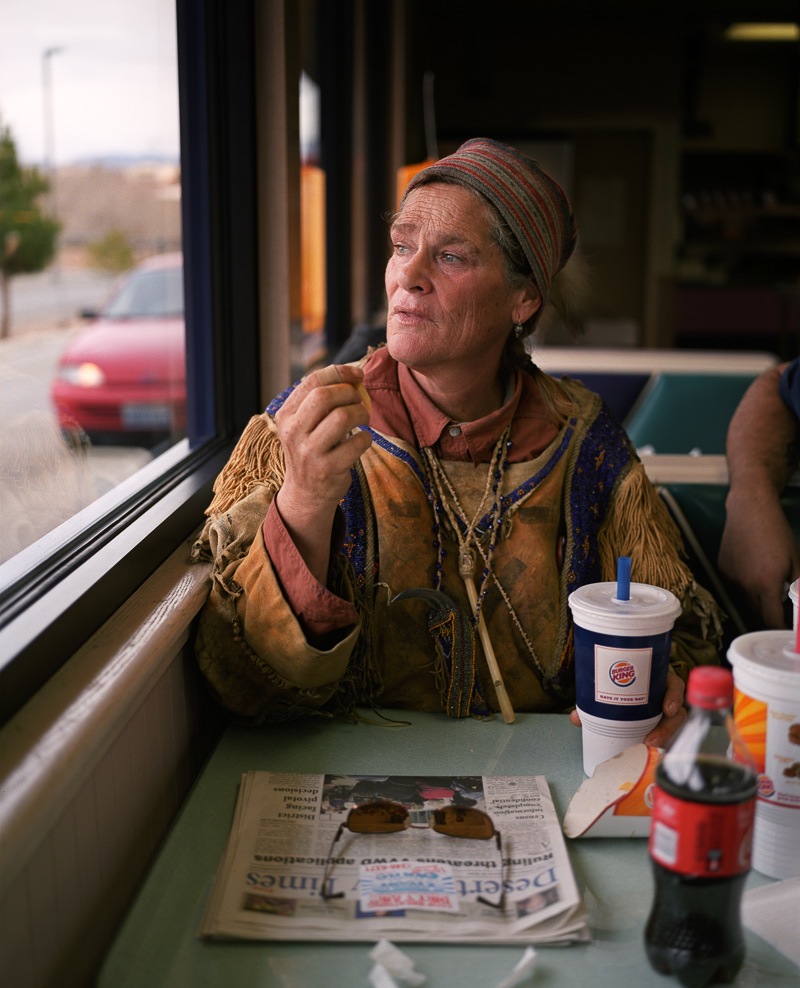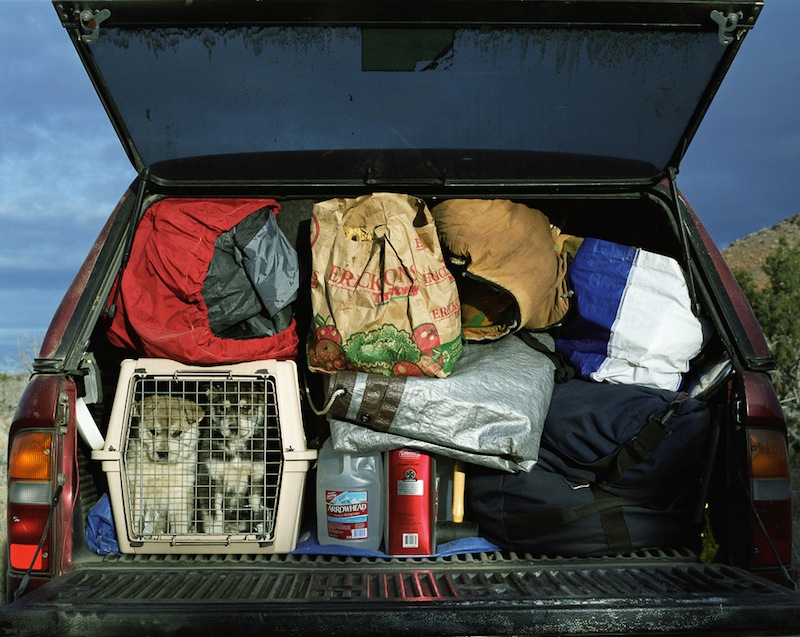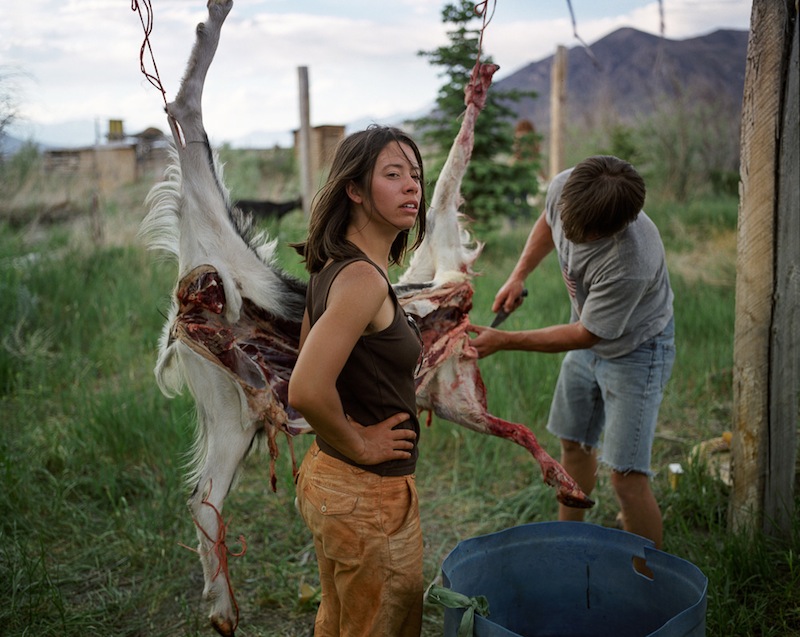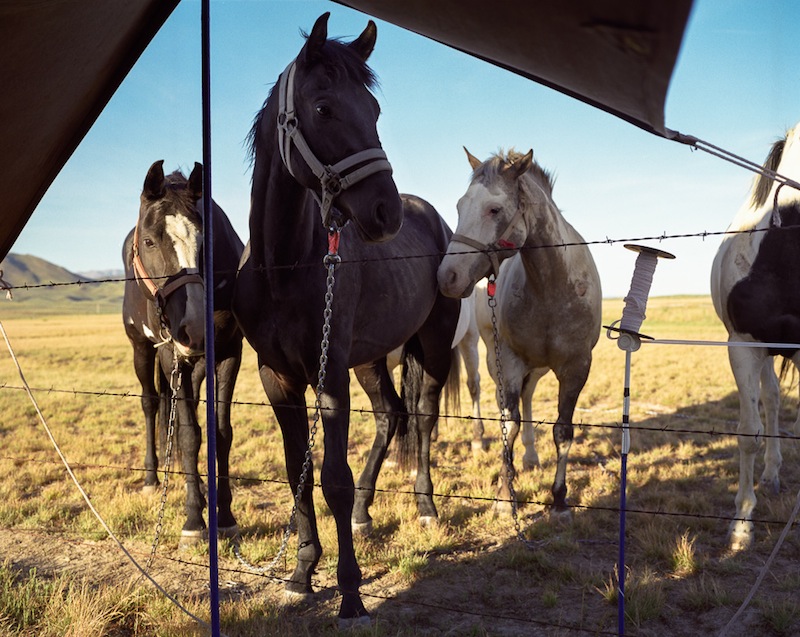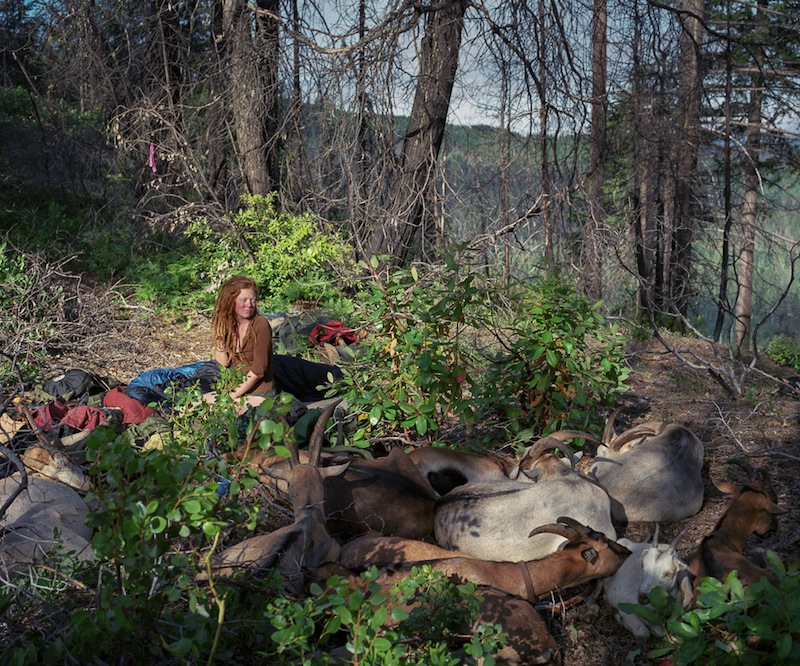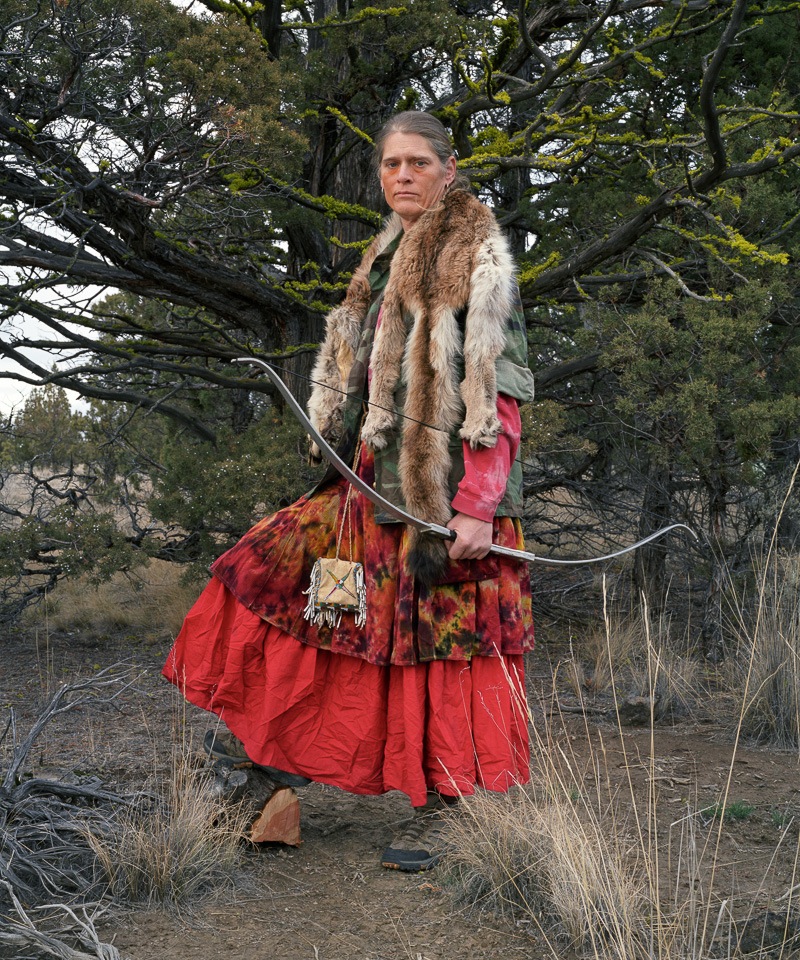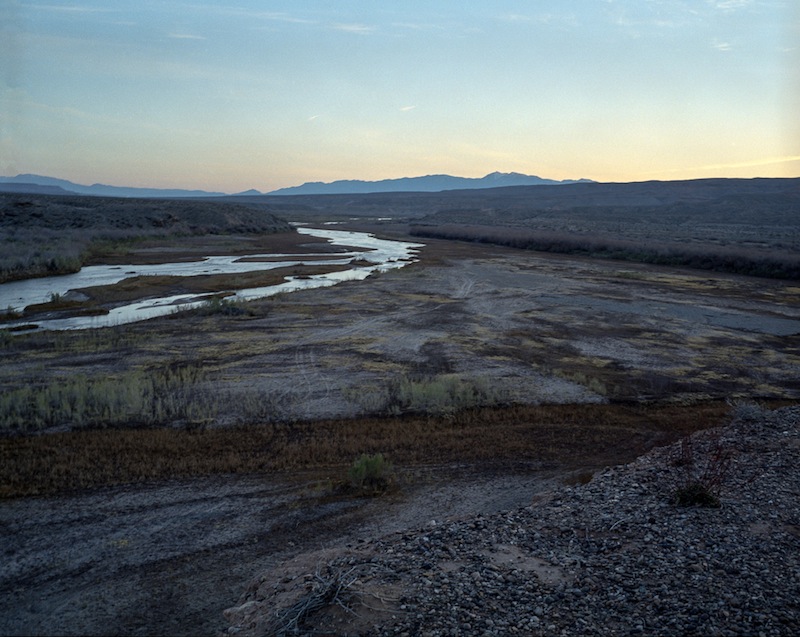 American photographer Adrain Chesser's series The Return is part of our #EscapeWeek, a special series of photo essays dedicated to groups of people who, in one way or another, for one reason or another, have retired from urban society.
The Return follows a tribe of people living nomadically throughout the US States of Idaho, Nevada, California and Oregon – read our interview with Adrain to find out more about this project. You can find links to all the other stories in our #EscapeWeek at the bottom of this article.
PS. We're giving away a copy of Adrain Chesser's The Return photobook! Click here to find out how to enter. 
Hello Adrain, thank you for this interview. How did you take an interest in photography?
In my early 20s I wanted to be a painter but I figured out pretty quickly that I had no real talent for it. Luckily, a friend gave me a camera and another friend gave me an enlarger and supplies for a dark room. So, in a closet under a stairwell I set up a darkroom and I taught myself how to make a photograph. I fell deeply in love with light and image and the alchemical magic of photography.
I was very fortunate to have had two mentor/protege relationships: first Rosalind Solomon and later Debbie Fleming Caffery, both staggeringly talented photographers. They each taught me in their own unique way what it means to live your life as an artist.
The Return is a photobook about a small nomadic tribe moving across the western states of the USA, whose members pursue an ancient ideal of life called 'The Hoop'. What is it about?
'The Hoop' refers to traveling with the seasons when indigenous foods are ready to be harvested. Traveling north in spring and summer and south in fall and winter, in a kind of large circular route or 'Hoop'.
You traveled with Native American ritualist Timothy White Eagle. What exactly is a ritualist, and what was his role in the making of The Return?
Timothy White Eagle is an Indigenous American of mixed ancestry who spent many years dabbling in amateur theater, cabaret, and improvisational performance arts. For the past 20 years Timothy has been studying with Indigenous American, Pagan and Haitian elders to create rituals and explore traditional forms of ceremony. He helps lead rituals around the country in a wide variety of communities. In collaboration with visual and performance artists he co-creates works which contain the conveyance of Spirit.
Before meeting Timothy, I had been reflecting on the inherent ritualistic nature of photography by focusing and heightening the innate rituals that go into making a photograph, especially portraiture. So when I met him, he really understood what I had been exploring. It was a natural fit that we would work together.
I think one of the more important aspects of a ritual or ceremony is the idea of focused or heightened intention. When working we held the focused intention that the images would be more than just a document: we wanted to convey the spirit of the way these amazing people live.
Is the tribe you photographed politically organized in any way? Who decides were to go next, for example?
There is no real hierarchy, most decisions are made by consensus. If someone doesn't agree, which is often the case, they will usually travel on their own for awhile.
What did the members of the tribe do before becoming nomads? Was their choice really motivated by the need of a more naturalistic way of life, or are there also deeper, underlying reasons that have to do with their personal stories?
People's stories are complex and multi-layered. It's hard to know all the circumstances that lead someone to make the decision to live this intense nomadic life. What I witnessed and was initially drawn to was that most often it was a choice to live a life that was more symbiotic with the Earth and less a reaction to some traumatic event in their lives.
What inspired you to photograph these people?
I met Timothy White Eagle, Finisia Medrano and Jp Hartsong at a Native American ceremony know as the 'Naraya'. From the first time I saw Finisia and Jp, two members of the tribe I photographed for The Return, I was in awe. I had never seen anything like them – they were amazing! The way they spoke, the way they were dressed, there was also a kind of ambiguity to their gender that was mesmerizing. When I learned that they were living this wild and free nomadic life, it spoke to a place deep inside of me where I felt trapped and alone and I knew that there was something that I personally needed to understand about the way they were living.
How long have you stayed with your subjects? Have you ever considered joining them? Or at the very least, would you endorse their way of life?
The longest period was about a month – we tried to spend a week or so for each season over the course of seven years. I find this life to be incredibly alluring and being out there is always full of a strange and beautiful kind of magic. It feels like entering another dimension. It's also an incredibly hard life in many ways, a challenge on all levels – physically, mentally and spiritually. But it is also very rewarding, I support anyone who would engage this way of living.
From what you can tell, are the subjects of The Return happier now? Do you know of someone who had second thoughts?
I think 'happier' is subjective and impossible to quantify. I do know they are having a radically different experience of life than most everyone else.
Please share some insight into your creative process for The Return.
From the beginning White Eagle and I knew we did not want to make a straightforward documentary body of work. Besides, I'm not really a documentary photographer, I'm always too emotionally involved with my subjects. I fell in love immediately with these amazing people and what they were doing, they became my friends and I could even say my extended family. So we decided to make a sort of mythic portrait of a community, a place and an ideal.
When we met, White Eagle had been working with Finisia, Jp Harstong and other members of the tribe for a couple of years and he had a deep understanding of the larger spiritual implications of their way of living. We had a lot of discussions about "The Heros Journey" as taught by Joseph Campbell and about the ways in which archetypal energies function in mythic storytelling as well as how those same and other archetypal energies work in ceremonial and ritual space.
What camera(s) did you use to shoot The Return?
Mamiya 7II, a classic medium format film camera.
Tell us the story of this photograph.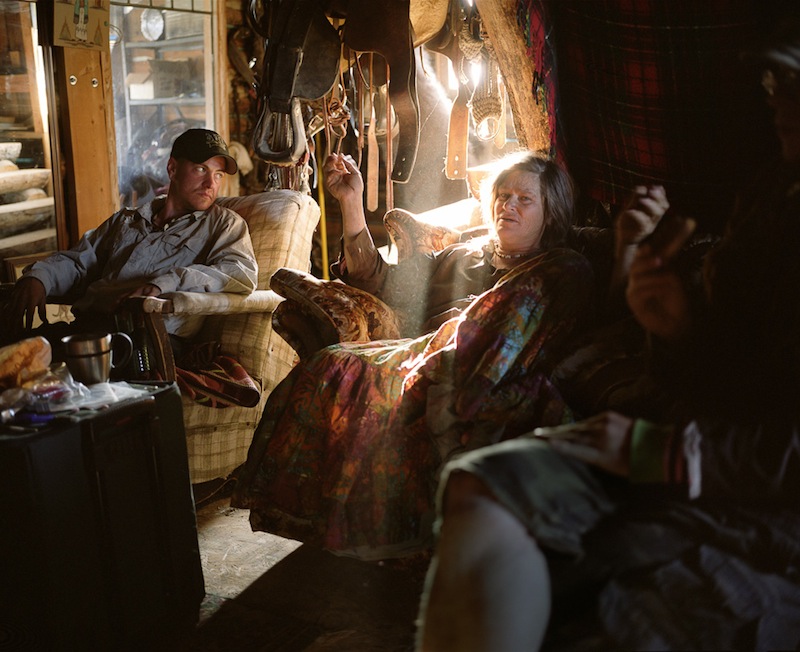 For a while the tribe had access to a cabin in Arco Idaho. They used it as a base for 'root camp' which is in the summer, when the roots are ready to be harvested.
One of the guiding principles of people living on the hoop is 'give back more than you take'. It is illustrated in the idea of digging roots only when the seeds are dry and ready to be planted: you dig the roots for your supper, therefore the ground has been opened by the digging; you then take the seeds form the stalk of the plant and drop them into the hole, with the prayer that there will be food for generations to come. In doing so, you're giving back more than you're taking.
In the image Finisia is talking about which roots are ready to be harvested and where they can be found. They were also making plans to save a field of breadroot and camas that was going to be destroyed by a housing development. They dug up the roots that were harvested by Native Americans for generations and transplanted them to a place where they could thrive.
Now you choose a photograph from The Return and share with us something we can't see in the picture.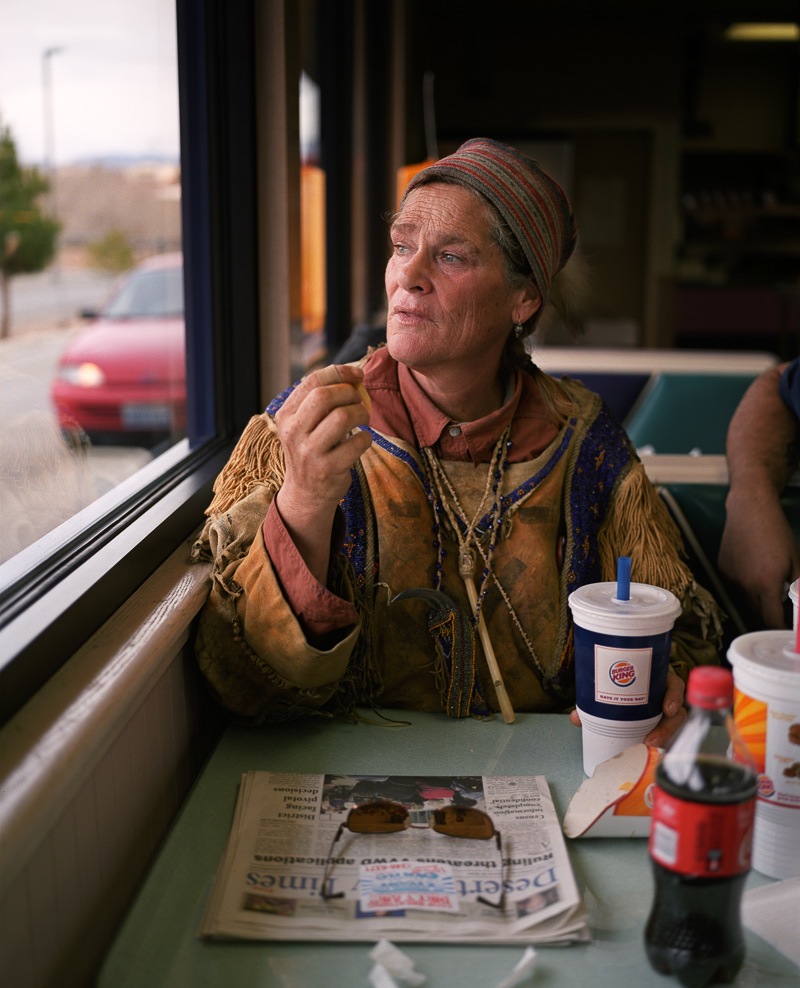 White Eagle and I had traveled 14 hours overnight to meet up with Finisia. We had agreed to meet in town at the Burger King, so that she could then take us out to her camp. Being exhausted and in need of food, I decided to get something to eat and Finisia took me up on my offer to buy her a meal. 
This image is very emotional for me. Finisia is actually crying in this photo. She started crying in the middle of the meal, speaking of the conflict between what she was eating and her ideal. I watch my beloved friends struggle so much with how their ideal clashes with the reality of civilization. I watched such conflict destroy one friend, drive him to madness and eventually suicide. In The Return, White Eagle and I wanted to present the mythic portrait of a new hero for a new age, but in the hero's journey there is always a dark passage, an epic battle to fight.
Choose your #threewordsforphotography.
Light. Magic. Memory.
***
Explore all the other stories in our #EscapeWeek: