Photos by Nelli Palomäki
Shared — Nelli Palomäki Explores The Power Dynamics At Work Between Brothers and Sisters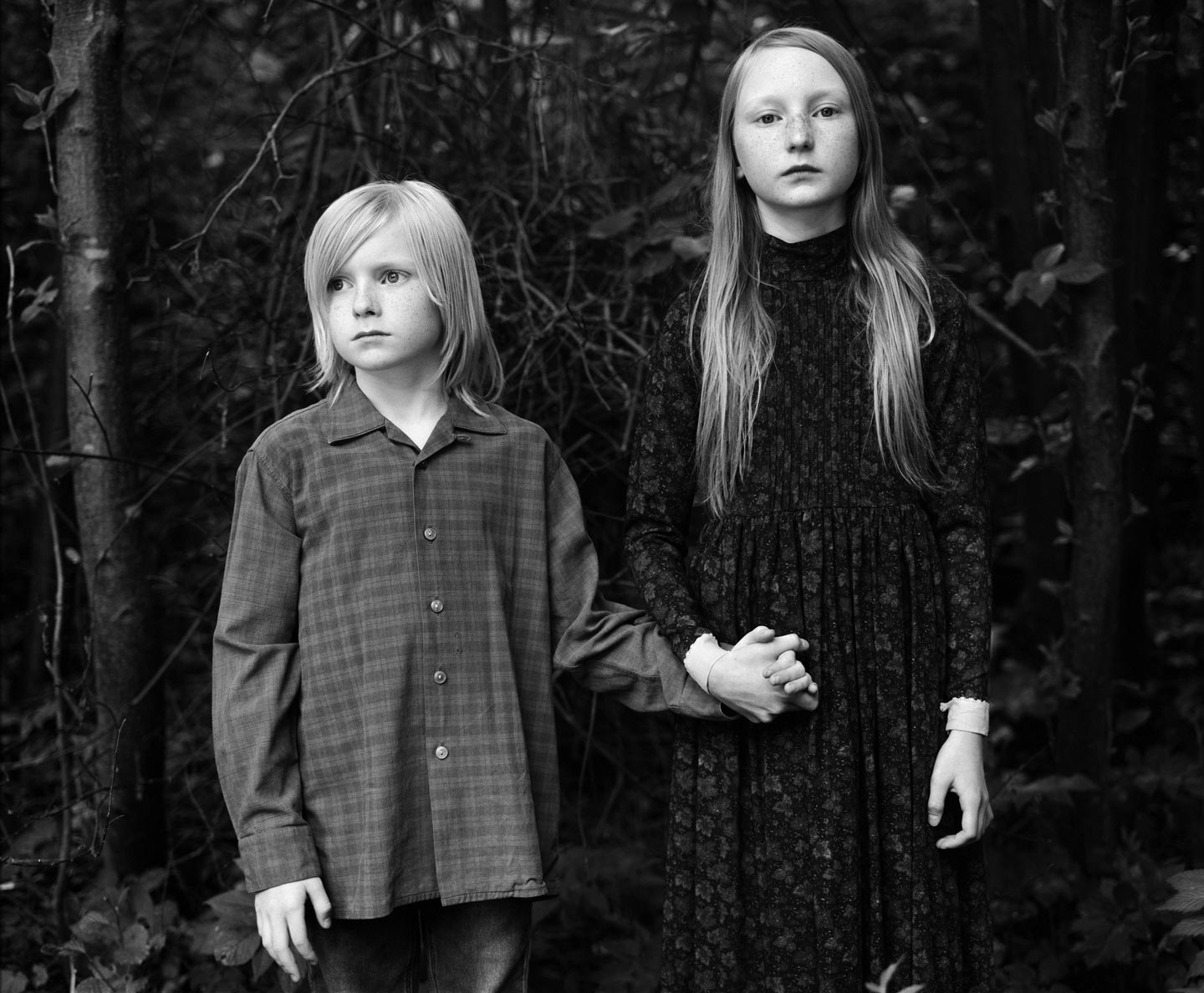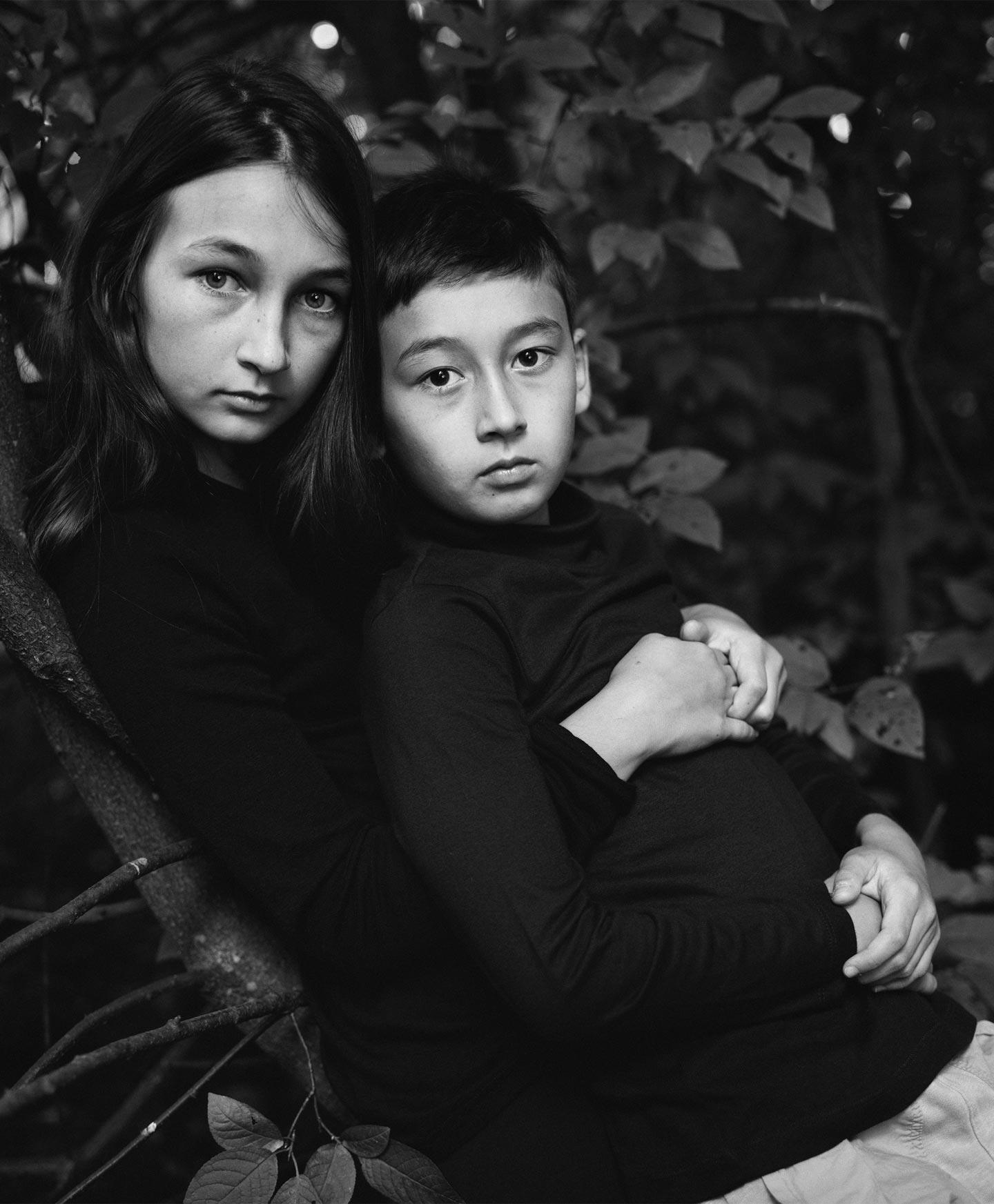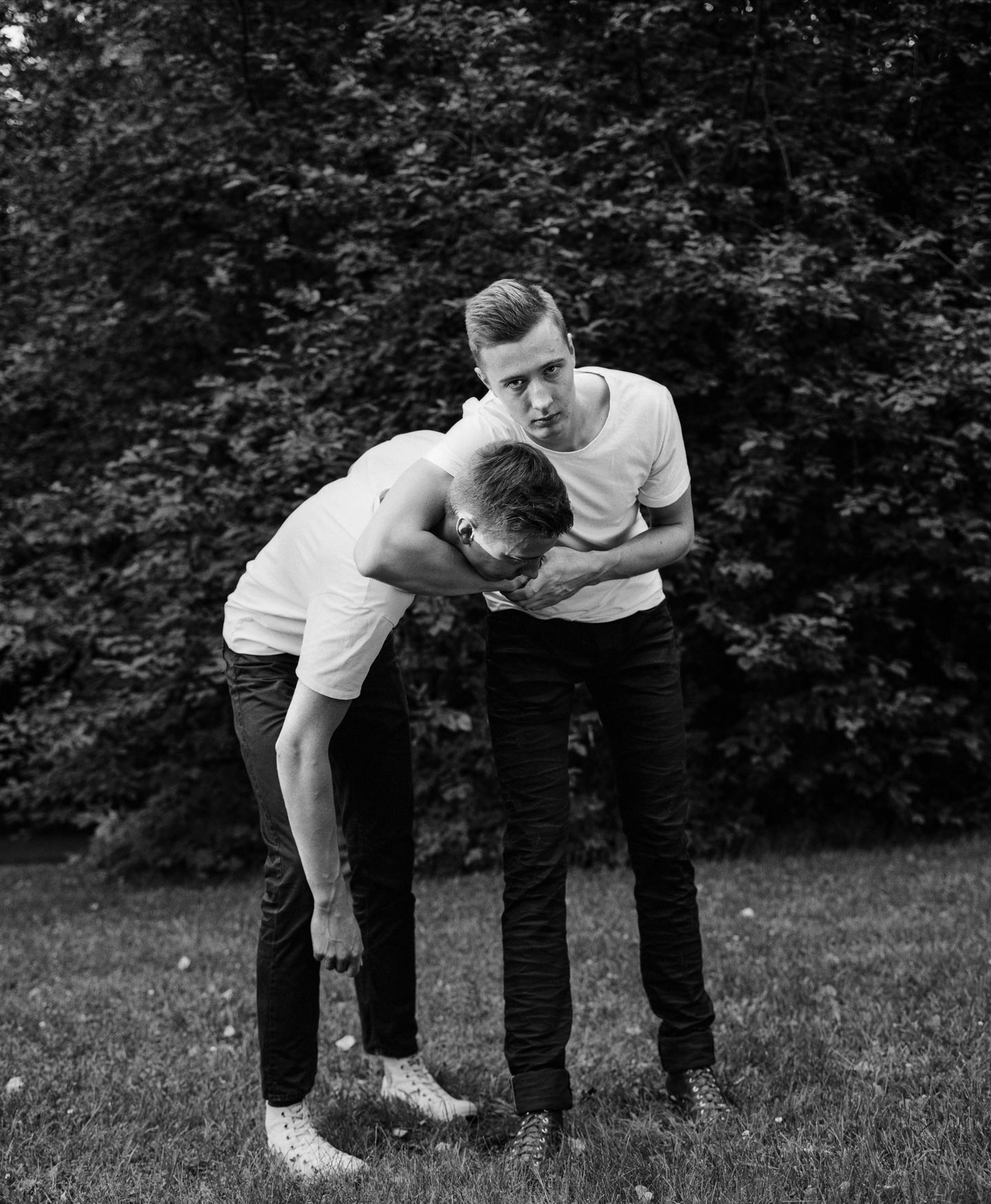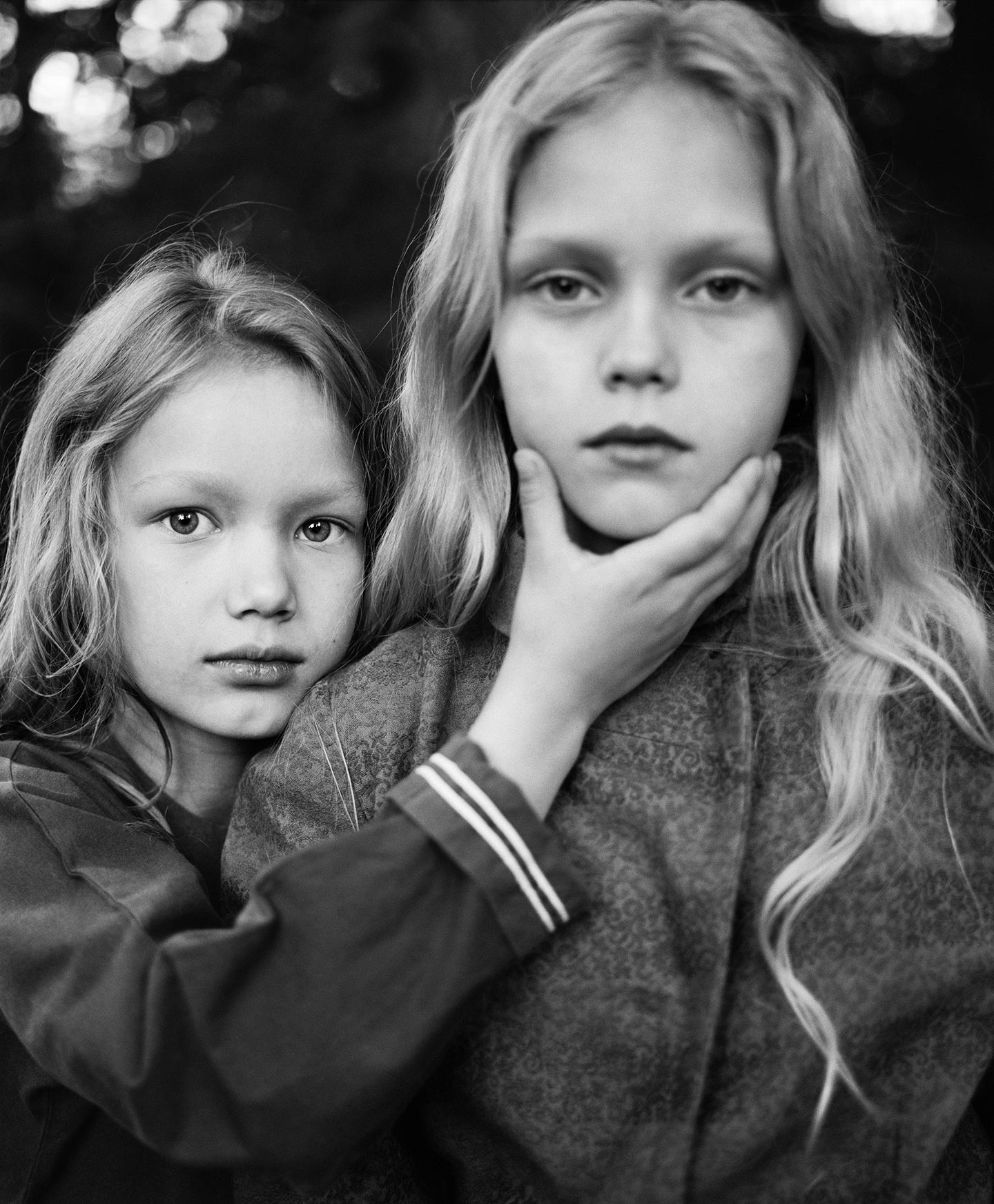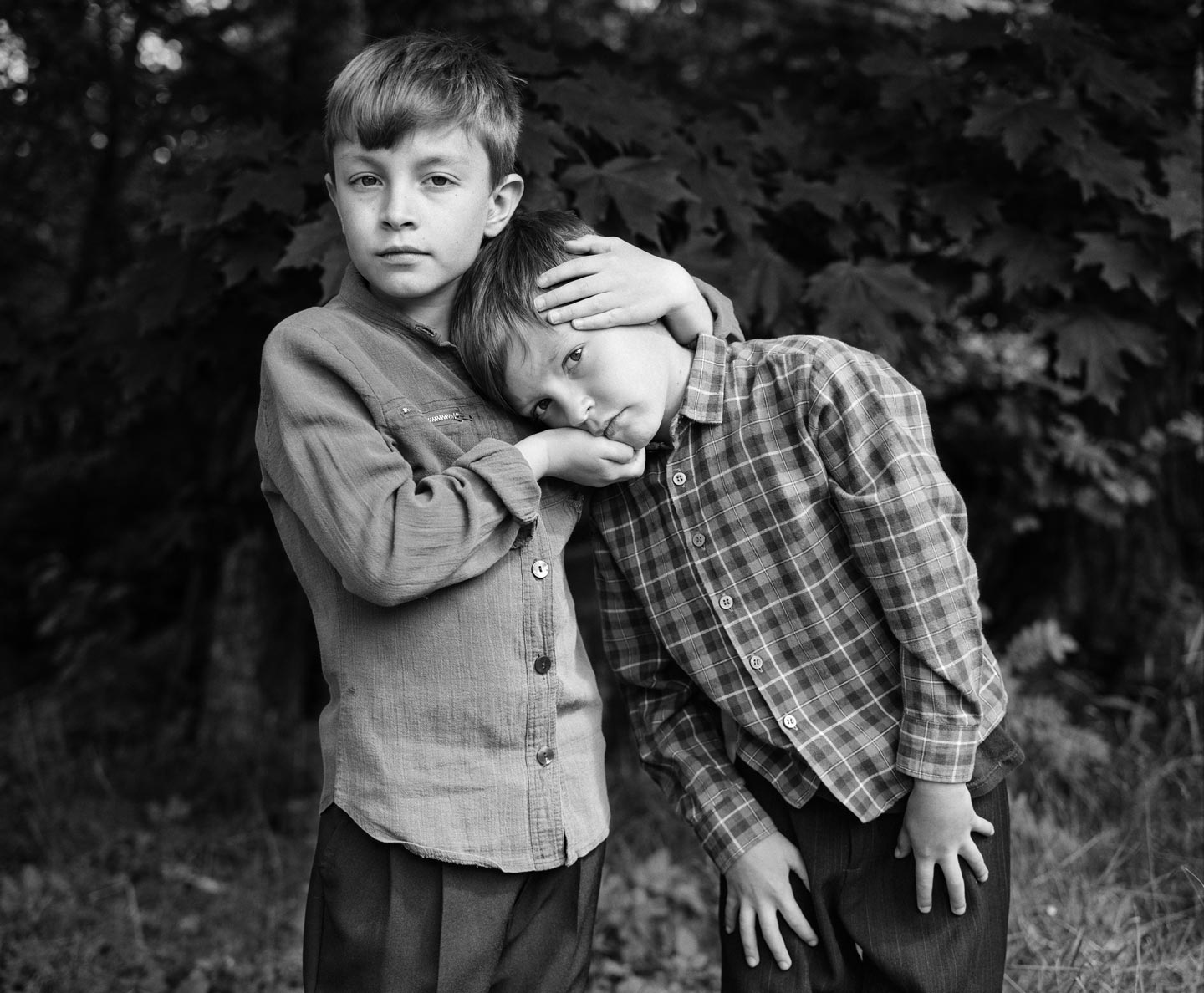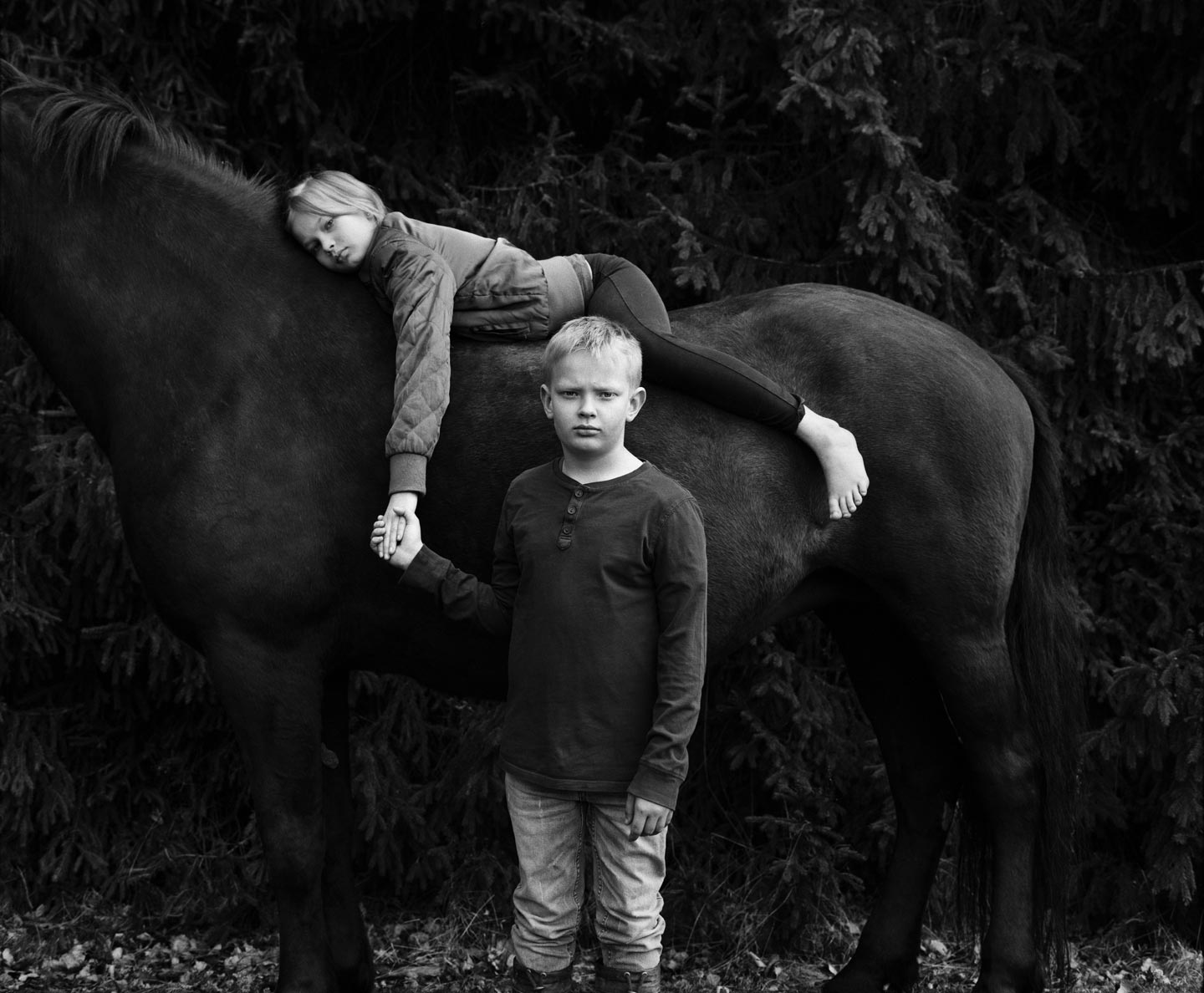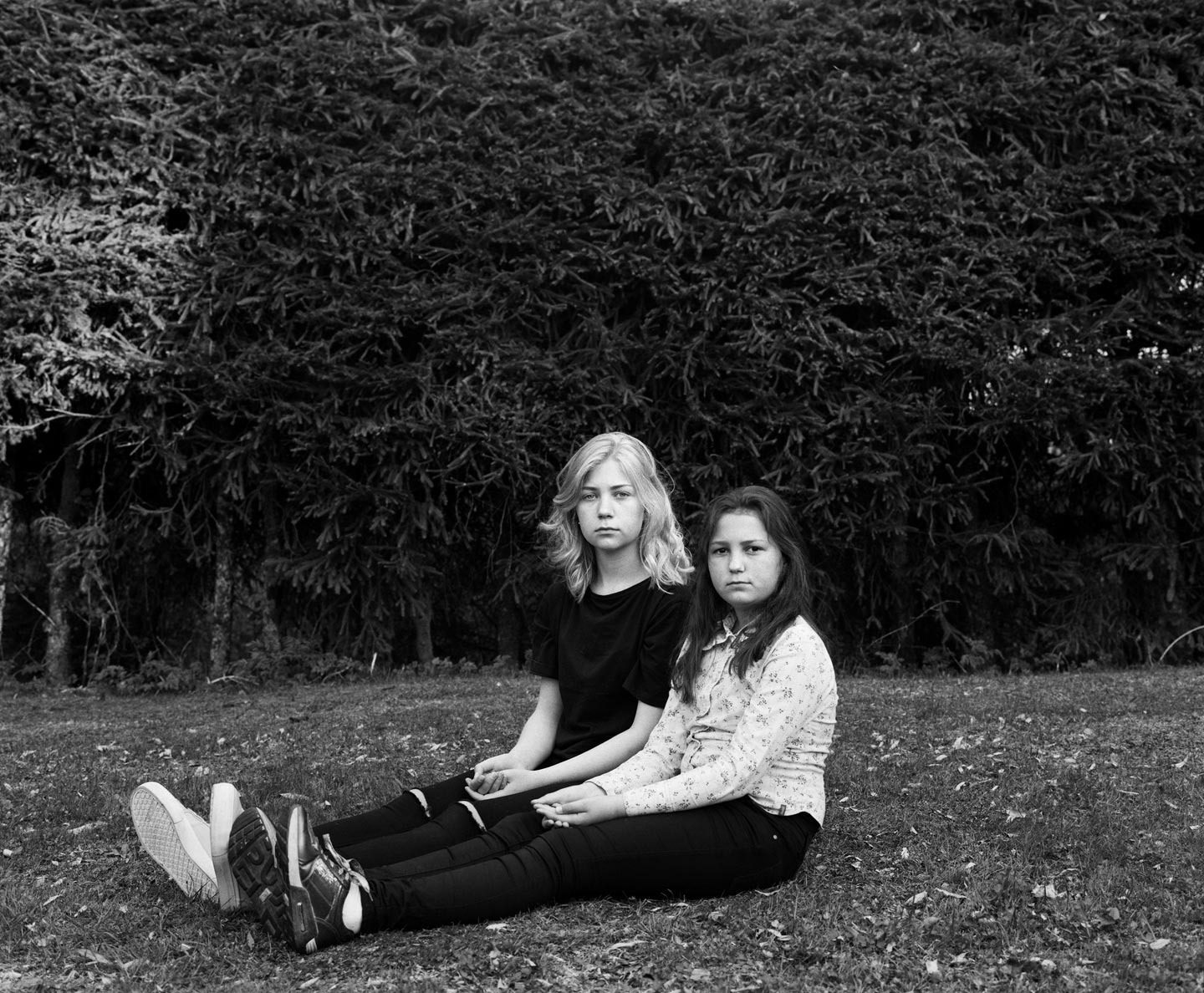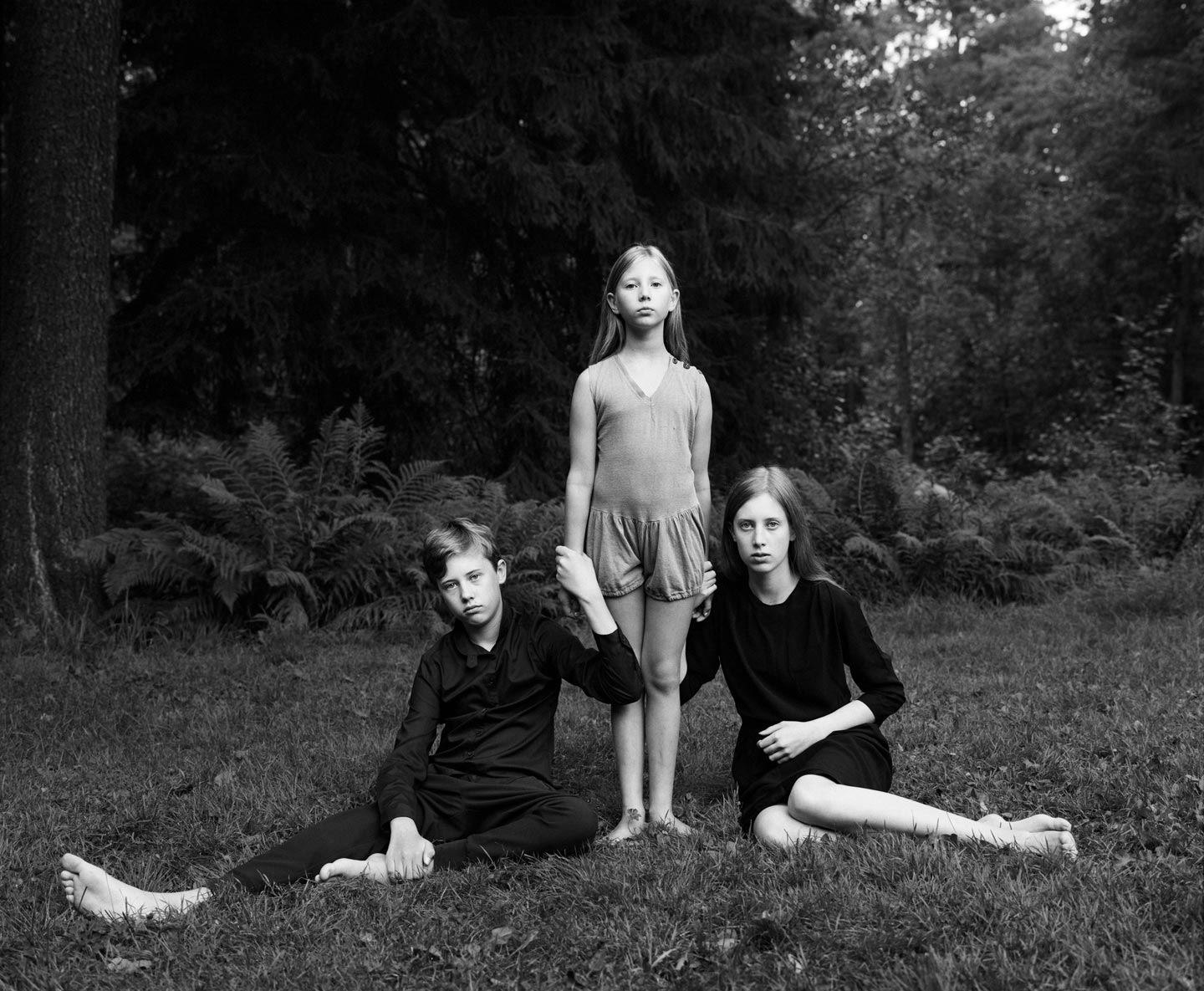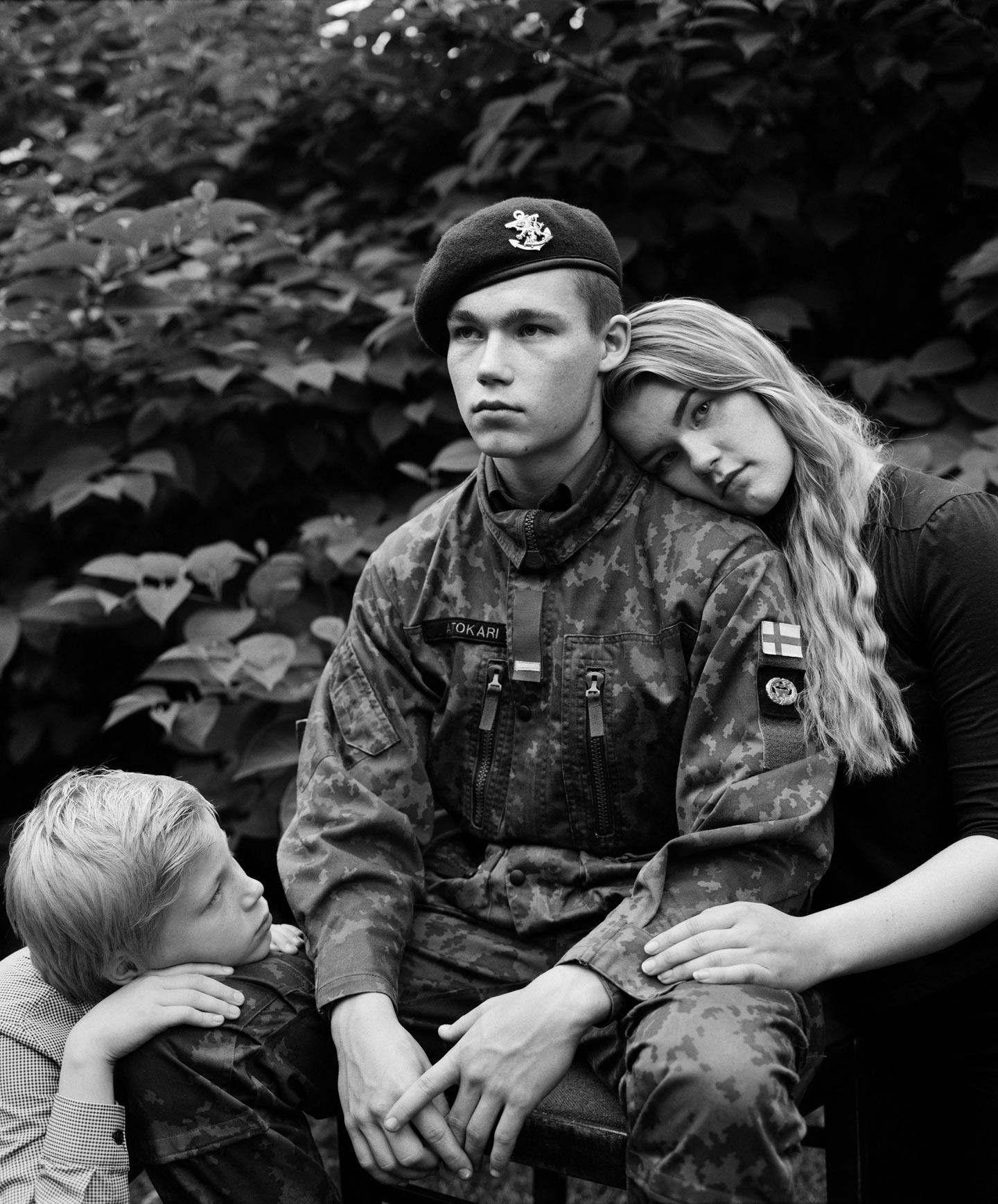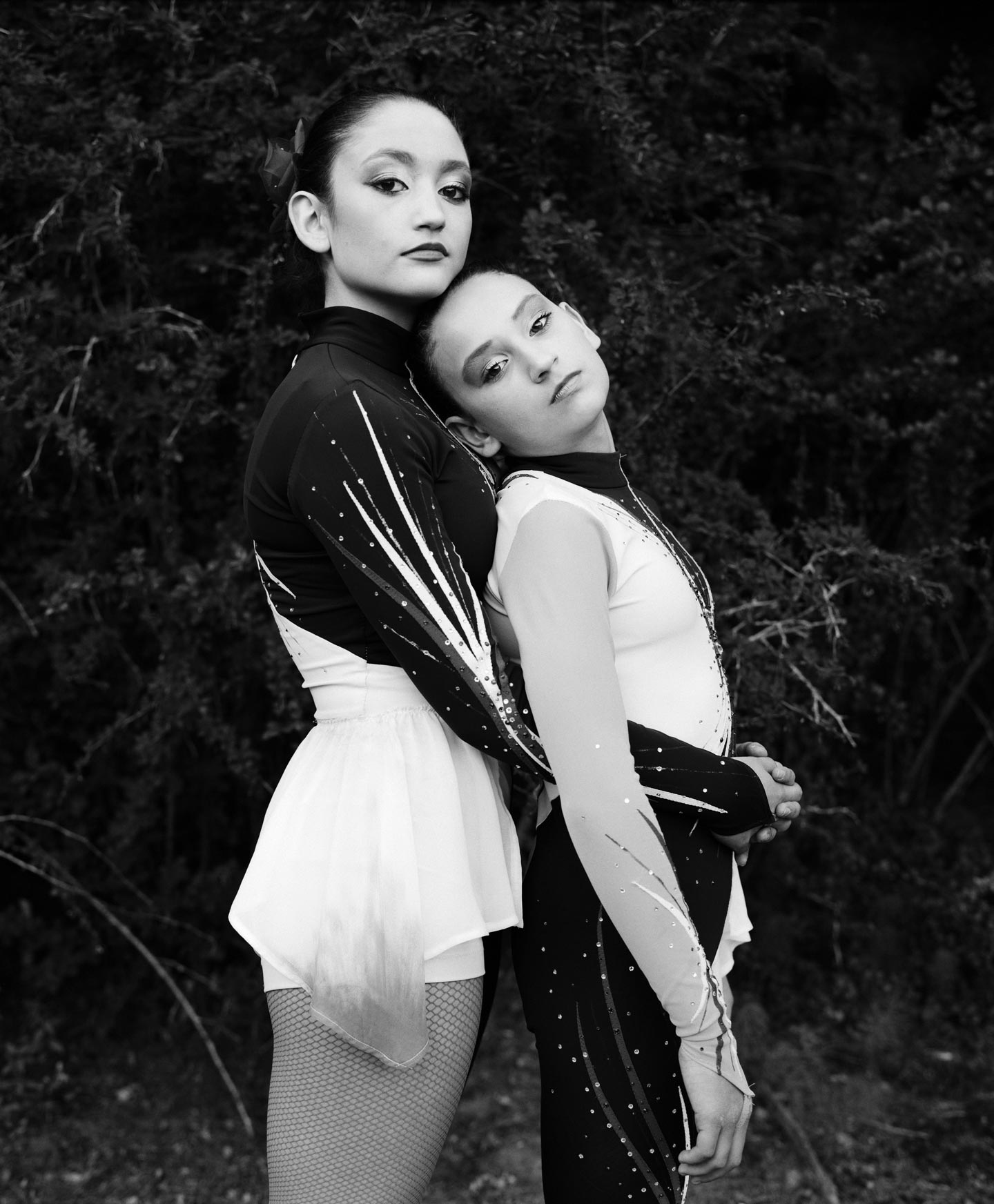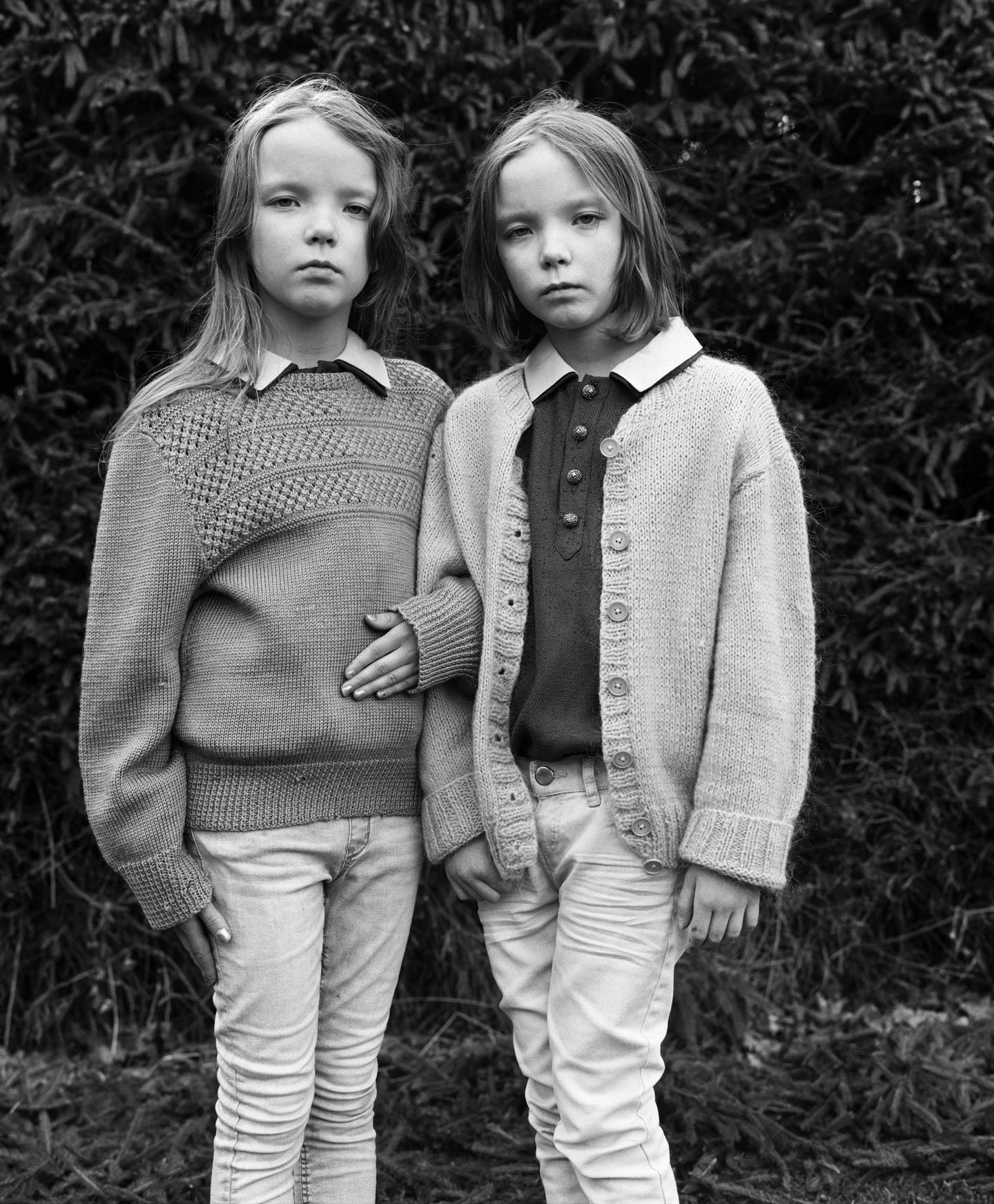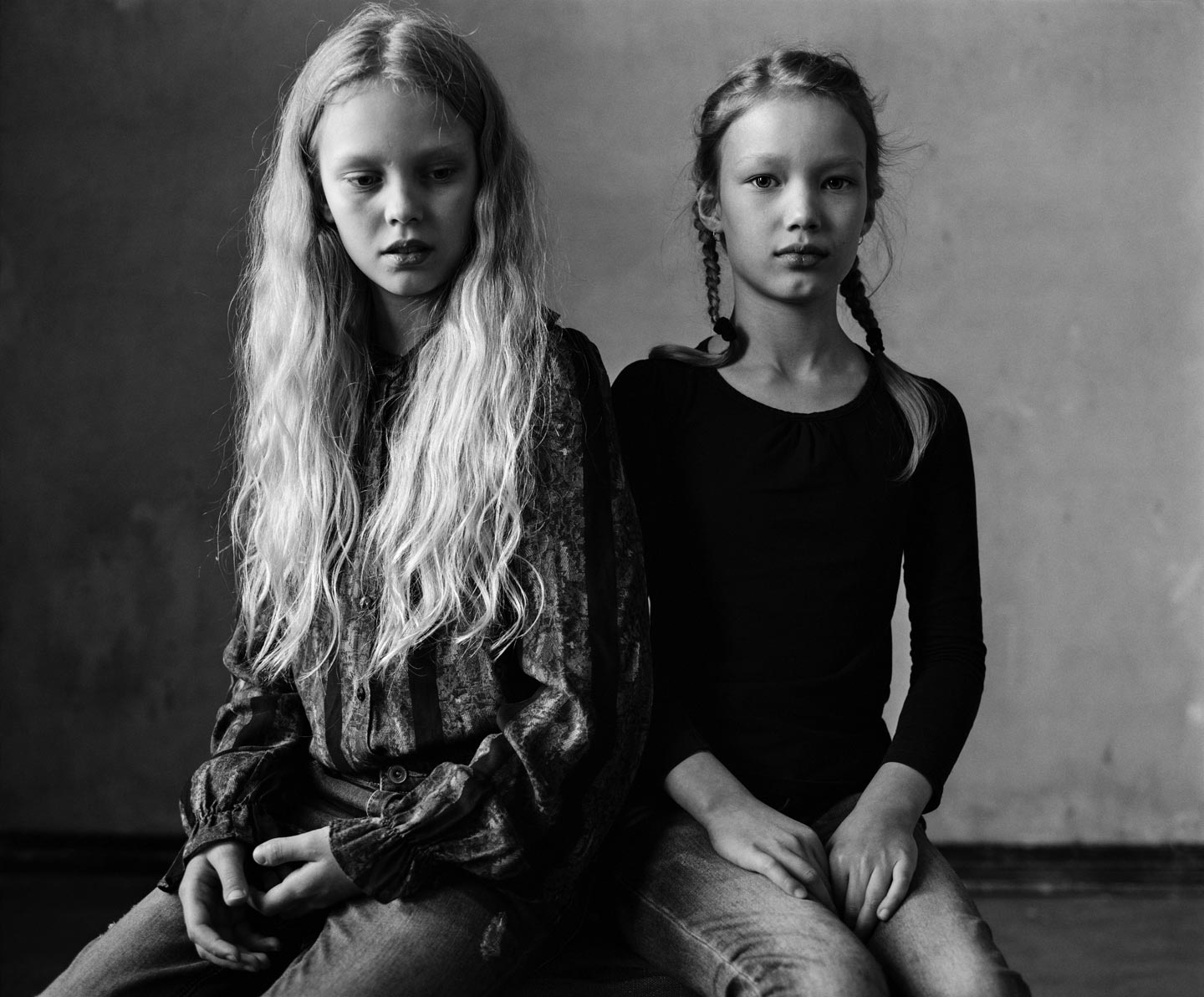 Shared by 36 year-old Finnish photographer Nelli Palomäki is a series of beautiful staged portraits, all shot on film and in black and white, that investigates the relationship between siblings—both the good parts (like love and closeness) and the more bitter nuances (like envy and competition). The images visualize this range of feelings through the different ways that the subjects physically interact with each other.
Hello Nelli, thank you for this interview. What are your main interests as a photographer?
Hi, great to have my work shown in FotoRoom, thank you! As a photographer—and as a person—my interests lie in portraiture, people, random encounters, coincidences, growth, identity, human behavior and communication in all its complexity. What I'm seeking in my work is a certain type of presence and a quiet moment shared with my subject. I'm especially interested in a specific age when children start seeing their image differently and switch from just standing still to taking a pose when they're photographed. My work is definitely intimate as well as uncomfortable: for me, portraiture is always extremely awkward, which is a crucial characteristic of my practice.
Please introduce us to Shared. 
Shared is an ongoing project on siblinghood. Through these portraits we can study the likeness, but also the differences between siblings. The work is timeless and silent, yet we can explore the power relationships in the portraits. Closeness, intimacy and particularly different ways of touching the other have become an essential part of these photographs.
I am truly fascinated by the act of posing, and simultaneously by our complex way of seeing and accepting our own image. Photographing siblings adds an extra layer to the already troubled idea of being seen and photographed by another person. Like we study ourselves through photographs of us, we also tend to see ourselves off of our siblings. It's like we use them as we would use a mirror or a photograph to observe both our favorite and unwanted features.
Shared is also a personal study on my own experience of being a little sister. While working with the theme of siblinghood I have been exploring memories of mine that had been partly hidden, through which I have realized how much being a little sister has shaped the person I am today. The bond between sisters and brothers is extremely unique and quite twisted in many ways. Ultimately, the idea of siblinghood is somewhat ironic: you cannot choose the person with whom you're about to share nearly everything. The title Shared refers to everything that siblings have been gifted (and forced) to share, but also to the time shared together with the people I photograph.
What inspired Shared? Why did you decide to create this project?
I started to work on siblinghood for a series of coincidences. I was already working with children and young adults, and I would find myself constantly surrounded by siblings, observing their behavior and unity, as well as their fights. So while planning an exhibition together with my husband Juhana Moisander, we decided to build the show around the theme of siblinghood. We combined portraits with video installations, and last winter, after the exhibition, I decided to continue exploring the theme. In the beginning it seemed almost too ordinary, but the more I got into it, the more intriguing it became.
There is something captivating about having a sister or a brother, let alone having more than one. Sharing so much, still being so totally different. Despite the presence of negative feelings like envy and competition, there is love without boundaries. Having an older sister I myself have experienced closeness as well as less romantic feelings. After having children of my own, I started to get a new perspective on siblinghood as a parent, and especially as a mother. This has been a great inspiration for Shared, and it has also raised many psychological questions around family relationships. My husband and I try to treat our children equally as much as we can, but it seems impossible to do that. Following my own children, I have also realized how different they are, and how much I compare them, even though I try not to do that.
What did you want the Shared portraits to communicate? 
I want them to show the unity between the siblings, but also to reveal the complexity and darker emotions around the theme. Togetherness is built around simple gestures: holding, grabbing or quietly leaning in on the other. Naturally there are many ways of being sisters and brothers, however my goal is to show something universal that goes beyond the particular subjects I've photographed.
In addition to the power relationships between the siblings, viewers face my relationship with my subjects. Moreover, all these portraits were shot in Finland, and surely they are also a sort of portrait of the Finnish youth.
Can you talk a bit about your approach to the work and making the portraits? For example, did you direct your subjects or did they choose how to pose on their own?
I always plan my portraits beforehand, but there is space for accidents. Since the work is built together with the people I photograph, they have a great impact on the result. Especially with children, the initial plan always changes a lot: we begin with an idea for a pose, and then go for what comes spontaneously. While shooting I focus on the light, presence and the pose itself. I tend to be very quiet and not give too many instructions, basically leaving them alone a bit.
I'm very nervous before each shoot, and can get even afraid of the people I photograph. As I shoot on film, the final photograph is never exactly what I expected, and this is what I love about photography: you can never be completely satisfied with the final image—it sort of leaves you hungry every time.
Most of my subjects are strangers to me, and only after the portrait was taken we become closer. Sometimes I continue photographing the same person for years—it can build up quite a unique relationship. I may find my subjects on the streets or in restaurants, as well as among my own relatives. I quite enjoy working with strangers: it makes a great excuse to get inside people's houses and hear amazing stories.
Why did you shoot the portraits in black and white?
It takes down an extra layer, and helps me concentrate solely on the person. It also makes the subject timeless. Shooting in black and white comes naturally to me—I don't really remember the colors after taking a photograph. It simplifies the image, or rather brings forward what for me is essential. Since I wanted to use nature as the setting for the portraits, black and white also supported the dark feeling I was after.
In general, what should a good portrait look like for you?
I have no rules about how a good portrait looks like, but definitely it has something to do with presence, both the subject's and the photographer's. A great portrait is hardly ever perfect. It needs to have a certain 'click'. It can be unpleasant, unattractive and most definitely extraordinary. Even if it is posed (as most portraits are), there is still something accidental. When you see a great portrait you don't really look at the photograph (by its merits I mean), but what is in it. I suppose this has a lot to do with a certain empathy too.
Did you have any specific references or sources of inspiration in mind while working on Shared?
No, not really. Usually my inspirations come from my daily life as well as from meeting new people and hearing their stories. I guess I was sincerely curious about how different siblings behave and present themselves when being placed side by side, holding each other. In my family we have never really touched each other, hugging is extremely awkward and uncomfortable. Seeing how close some of the siblings are when being photographed—for me it's magic!
How do you hope viewers react to Shared, ideally? 
The theme of siblinghood is extremely universal, and therefore touches many of us. I hope viewers recognize the complexity of siblinghood as well as embrace the physical and psychological closeness that siblings might share. In the images I try to create this sense of intensity with small gestures which ideally will spark thoughts about our own relation with our sisters and brothers, and their impact on us. The dark backgrounds embody the less bright side of siblinghood.
What have been the main influences on your photography?
I'm mainly influenced by real life and real stories, but also from other photographers' work. I go to photo exhibitions quite a lot, and naturally that has a significant impact on my own practice. It is part of the learning process, to understand why some images are stronger than others. Specifically on the theme of siblings, I was also influenced by classic fairytales where very often siblinghood is one of the main themes. Other powerful inspirations have been my own family and my fairly fresh experience of being a parent. As we live in the countryside, the nature and its silence has become an important element in my work too.
Who are some of your favorite contemporary photographers?
There are so many. I must admit that I almost never fall in love with anything that isn't portraiture, no matter how hard I try. But to mention contemporary photographers with some extraordinary work I have to say Rineke Dijkstra, Hellen Van Meene, Siân Davey, Anders Petersen, Hisaji Hara, Jen Davis, Pieter Hugo, Todd Hido, Inta Ruka, Michal Chelbin, Vanessa Winship, Alec Soth and Elis Hoffman among many others. I have a huge respect for many of my colleagues and talented friends like Dorothée Smith, Saana Wang, Joakim Eskildsen, Antti Laitinen, Jonna Kina, Laura Pannack, Anni Leppälä or Kenneth Bamberg. We have all these amazing Finnish artists such as Pentti Sammallahti, Ismo Hölttö (not very contemporary, but I must mention him), Jyrki Parantainen, Sanna Kannisto, Heikki Kaski, Marjaana Kella, Niko Luoma, Tiina Itkonen, Aapo Huhta, Sirkka-Liisa Konttinen, Jorma Puranen, Tuomo Rainio or Ulla Jokisalo, just to mention few. Many of these artists work with different mediums, but their practice is still strongly connected to photography too. I am also a huge fan of many great old masters, but that would make a different list.
Choose your #threewordsforphotography.
Silent. Uncomfortable. Intensity.