Photos by Kyle Weeks
Kyle Weeks Portrays the Men Who Extract Sap from Namibia's Palms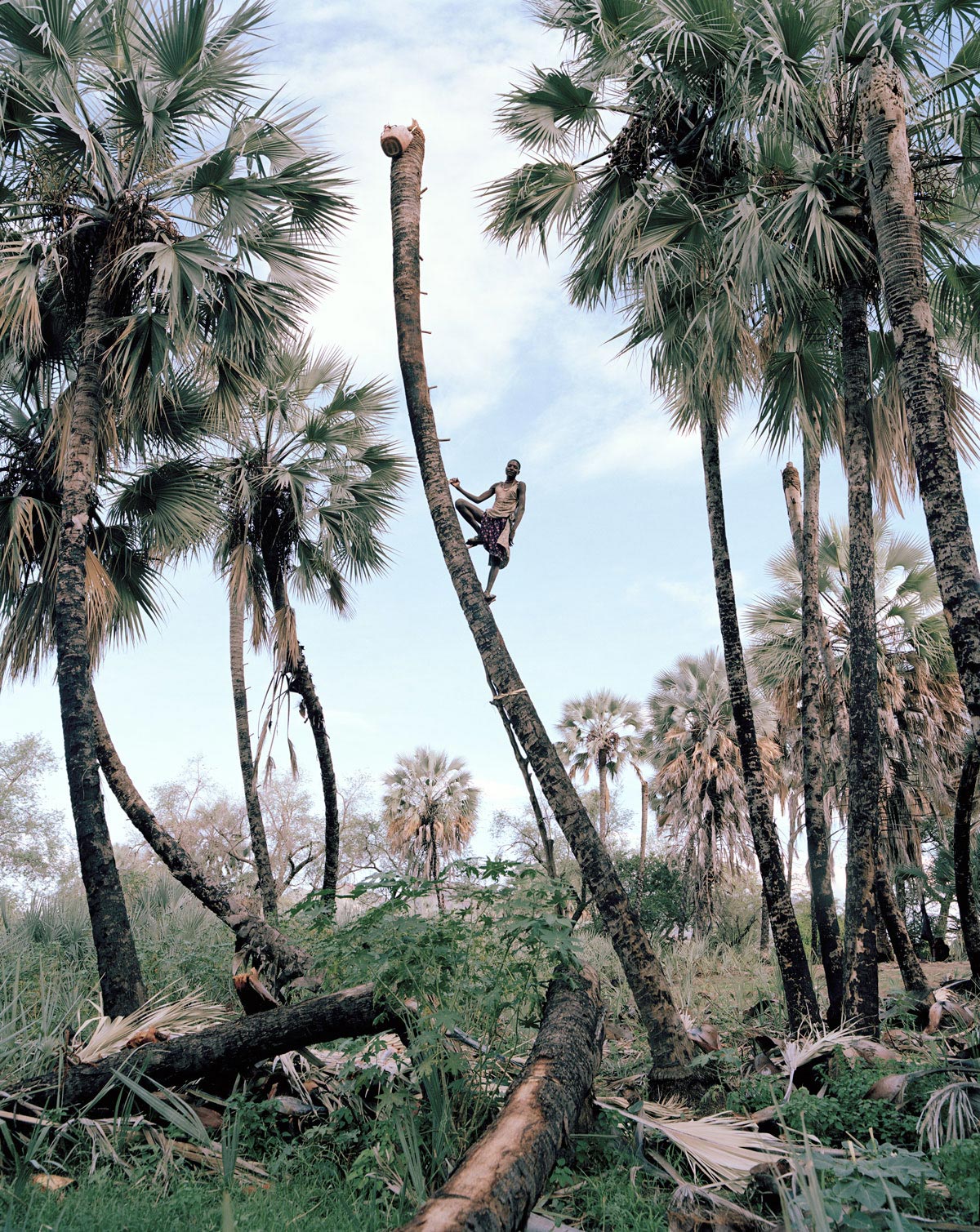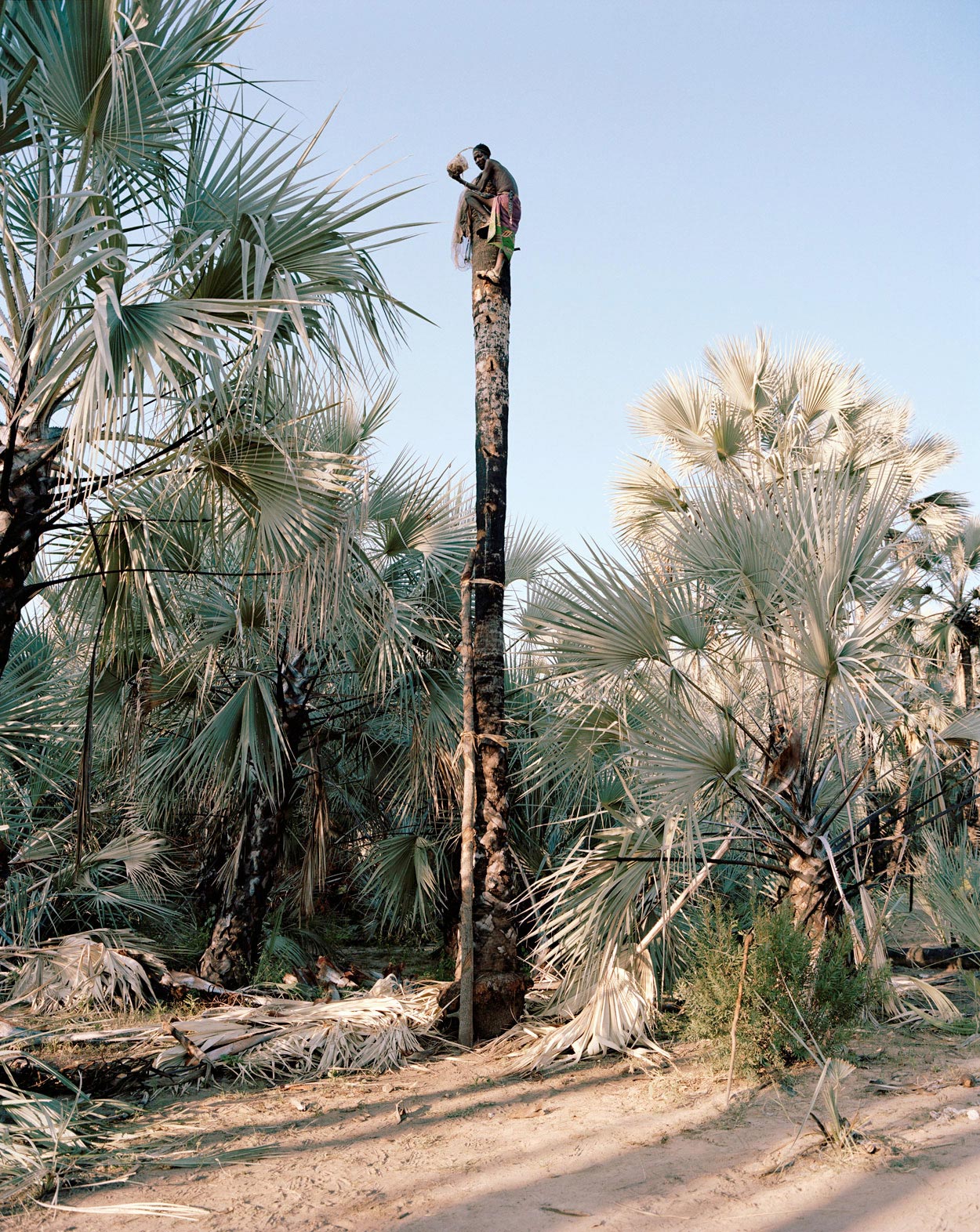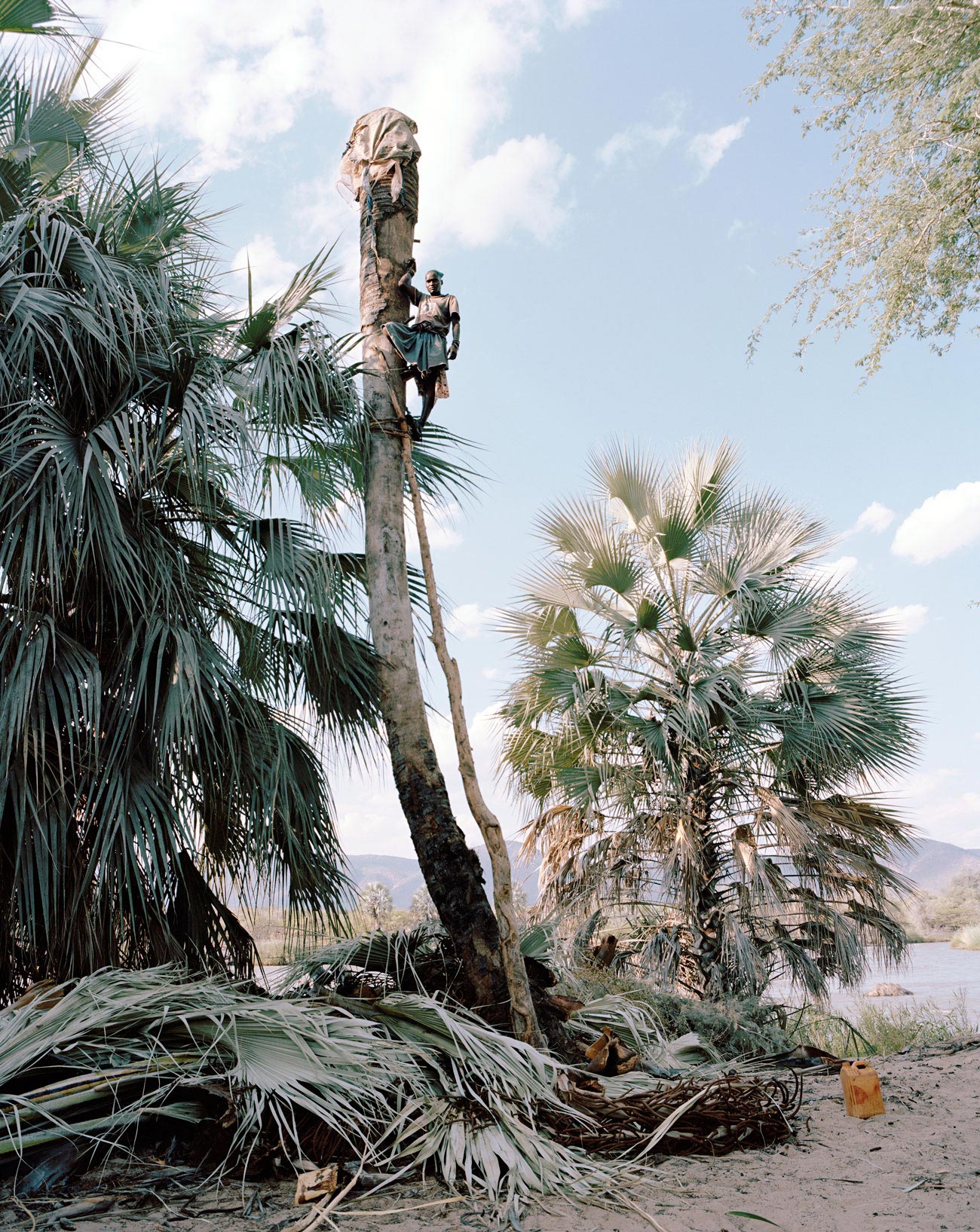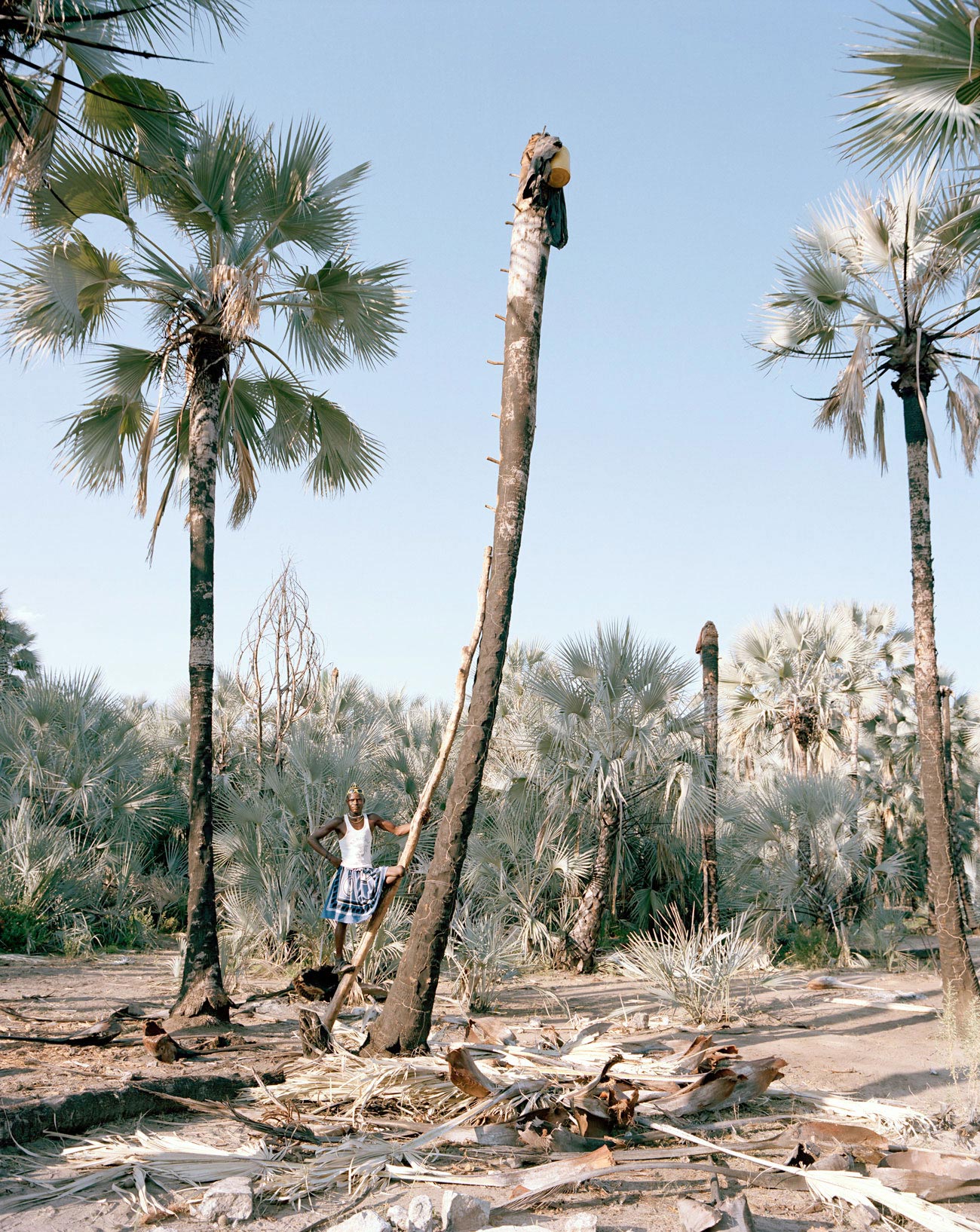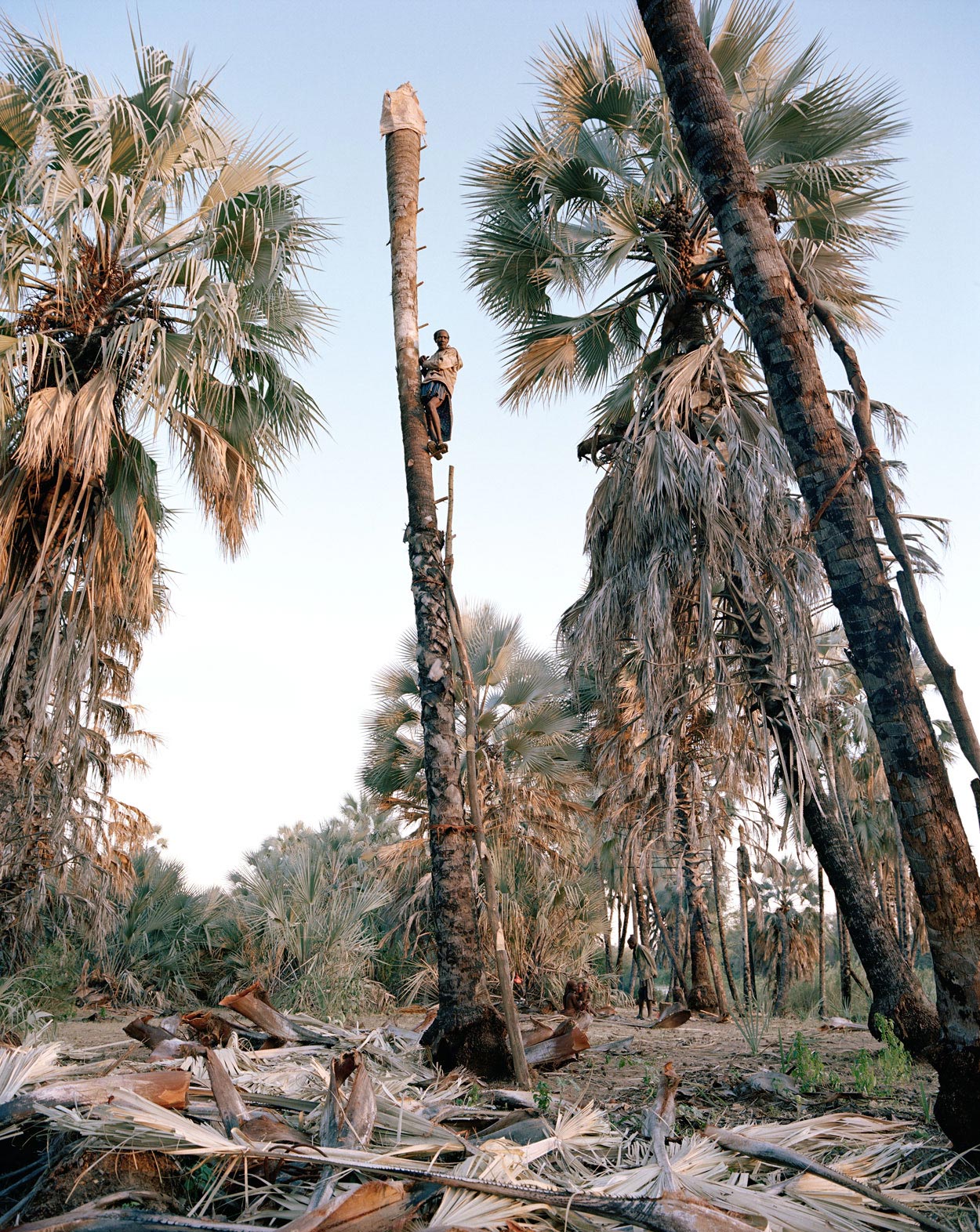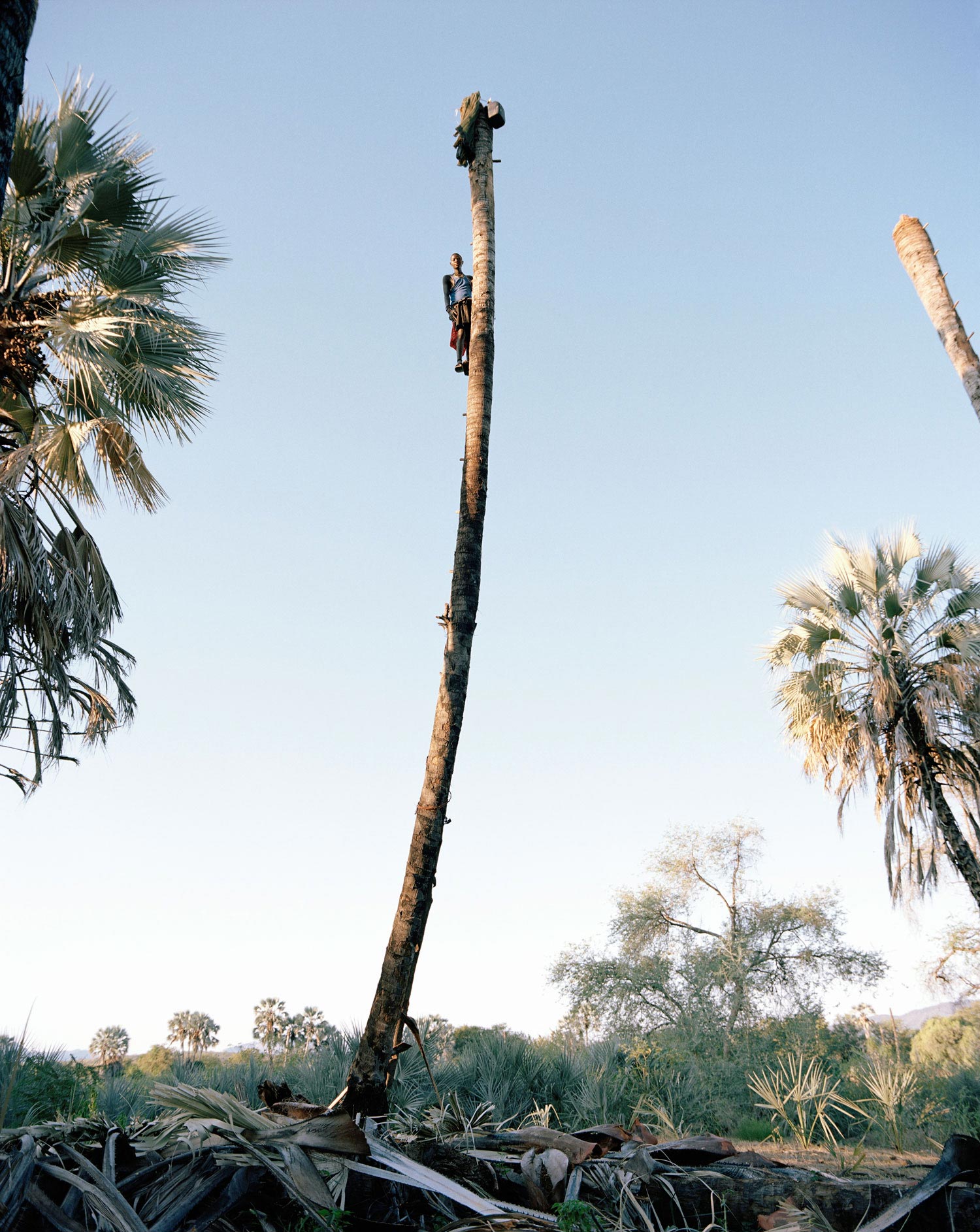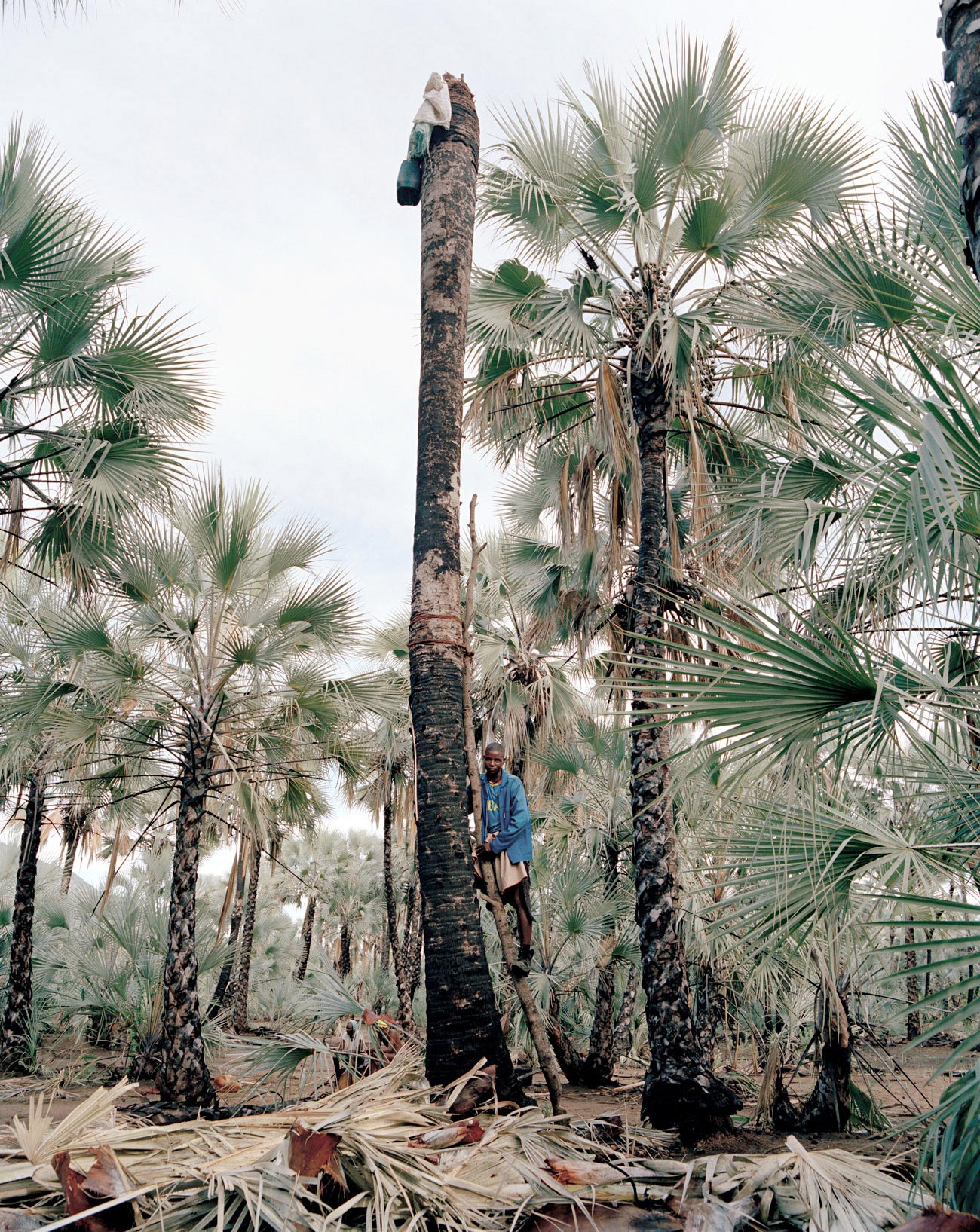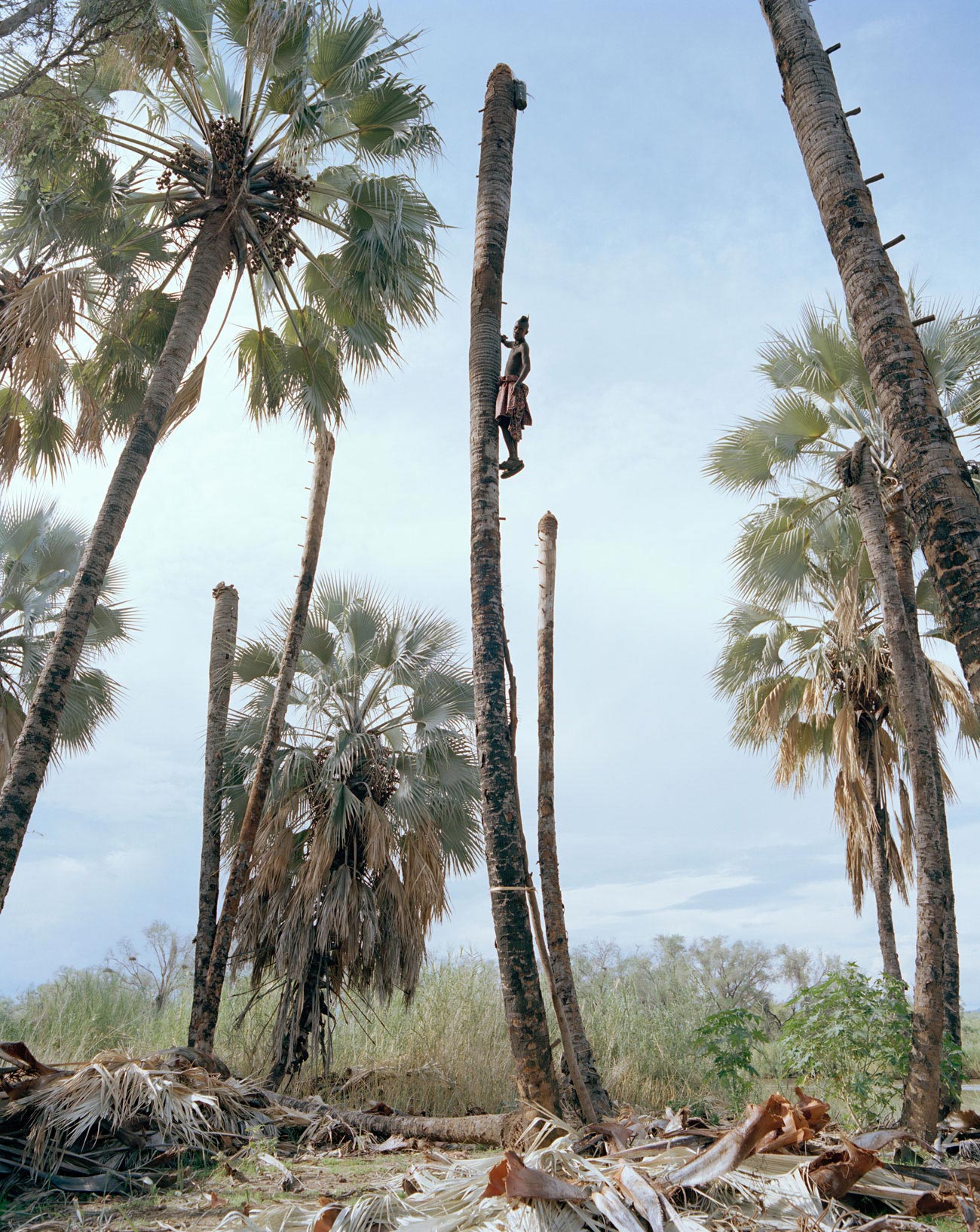 24 year-old Namibian photographer Kyle Weeks presents Palm Wine Collectors, a series of environmental portraits of a group of Namibian men busy extracting the sap from palm trees, a traditional practice banned by the government which they refuse to stop doing.
Hello Kyle, thank you for this interview. What are your main interests as a photographer?
I'd say my interests are rooted in the politics of identity and photographing people, particularly in the way that images have the ability to shape and preserve people's identity. Over the past years I've looked closely at representation of the African body, referencing the historical visual language to make work that drives important dialogue on documentary photography as well as the ethics of representing difference.
Who are the men we see in the Palm Wine Collectors portraits, and what are they doing?
This series portrays the Himba men who select, prepare and maintain Makalani Palms during the sap tapping process. Ovahimba from this area have utilized this plant species for generations, passing down the knowledge and technique needed to carry out the method of obtaining the liquid sustenance.
The process begins by selecting a well-aged, sizeable male palm. Its size and proximity to ground water will determine the amount of sap it produces, some palms secreting over one hundred liters. Once selected, the trunk is then pierced with stakes carved from harder wood that act as steps upward toward the leaves and flower at the top. In order to attain the sap, the men behead the palm by cutting its crown from the trunk. This sacrificial act will eventually cause the tree to die, but first the white sap rises upward filling a hollow carved into the trunk. The secreted sap is sweet and alcohol free, but due to naturally occurring yeasts it quickly ferments and produces an alcoholic drink traditionally known as 'Otusu'.
Where did you take the Palm Wine Collectors portraits?
These images were made in Namibia, along the Kunene River, which forms the natural border between northern Namibia and Angola. I've always had a special appreciation for this area, especially for the unexpected presence of the perennial river that carves its way through the dry land. On the river's flood plains, the nutrient rich soil gives growth to a dense belt of Makalani Palms stretching upstream along the river from Epupa waterfall. During dry season many of these semi-nomadic herders settle near the river for access to water; in these months, palm wine consumption is at its greatest.
Why did you decide to make a project about these men? What struck you about them and their work?
The decision to make these photographs actually came about on my return to the area to distribute prints to the young men who participated in my previous project titled Ovahimba Youth Self Portraits. During the journey to find those that I had previously photographed, I met a familiar young man named Wakarerera Tjondu, who led me through the palms and introduced me to the tapping process for the first time. As he artfully ascended the palm, I recognized he took great pride in showing me this cultural technique.
I knew that these Makalani Palms however are protected in Namibia, and that tapping these trees is a banned practice. Nonetheless, after having spoken to these men it became clear that they believe it is they're right to continue utilizing their land as they have for generations. They argue against Namibian law, instead staying true to cultural traditions that respect these Palms in their utilization and in turn promote they're conservation on a cultural level.
What did the subjects think about being photographed?
The fact that I had already spent a considerable amount of time in the area definitely helped me gain their trust. By returning with prints for the men involved in my previous project, they were able to see themselves in the pictures I was taking; this made them eager to participate. While taking an interest in certain aspects of modernity, each of them still shares a strong kinship to cultural practice. They take great pride in the masculine process of preparing the palm and scaling its tall thin trunk to bottle the wine, so they had no objections to being photographed.
How did you interact with your subjects during the portrait sessions, and did the height of the palms pose any particular problems in making the photos?
I always travelled with a translator; together we were able to freely interact with the men, making it possible for each of them to discuss the production of their portrait and then directing them where needed during the shoot. I'd start by showing them a digital image to give them an idea of my framing and would then switch to my analogue camera to capture the image. The height of the Palms wasn't really a problem; I strategically positioned my camera at a distance and used a wide-angle lens that could accommodate the 10 to 15m high trunks.
Did you have any specific references or sources of inspiration in mind while working on Palm Wine Collectors?
Most notably the formal aspects of New Objectivity. I wanted to produce a typological series of environmental portraits that through strict composition and detailed description would accurately depict the relationship between these men and the palms.
What have been the main influences on your photography?
My work is influenced by my own experiences in relation to those around me. My family's enjoyment and appreciation of the natural world, mentors who have helped broaden my knowledge on the medium and friends whose interests shape my own. Then of course there's music, books and the World Wide Web with its endless stream of inspiring photography.
Who are some of your favorite contemporary photographers?
I admire the work of so many. Rineke Dijkstra, Katy Grannan, Alec Soth, Viviane Sassen, Richard Renaldi, Jamie Hawkesworth and Mark Peckezian, to name a few. The list grows constantly.
Choose your #threewordsforphotography.
More. Feel. Vision.