Enter #FotoRoomOPEN and Get a Three-Month Mentorship with Wren Agency
It's already time for another #FotoRoomOPEN call! For this new edition we've partnered up with Wren Agency, a London-based visual artists agency with a remarkable roster of both represented photographers and clients. Wren Agency is offering the winner a three-month mentorship: don't miss this fantastic opportunity to get guidance on your work and take a glimpse at the world of commercial photography through the insights of an established team of professionals. Read on for all the details, submit, and good luck!
The Juror — Wren Agency
London-based Wren Agency (website / Instagram / Vimeo) offers visual artist management driven by creativity and productivity. Working across still and moving image within the fashion, luxury goods and entertainment industries, the agency is a place where the photographer's individual aesthetic and visual personality is celebrated within each project.
Wren Agency represents the talented, award-winning photographers Jean-Baptiste Courtier, Luke Evans, Richard Foster, Felicity McCabe, Marcus Palmqvist, Luke Stephenson, David Stewart and Dougie Wallace. Their list of clients includes top brands and magazines such as Apple, Amazon, The New York Times, Dries Van Noton, Sky, Volvo, Wallpaper and Selfridges.
Below you can see Wren Agency's 2018 showreel video:
The Opportunity — Get a three-month mentorship by Wren Agency
Wren Agency is offering the next #FotoRoomOPEN winner a three-month mentorship focusing on portfolio and career development. The winner will receive three one-to-one sessions (one per month), each one of the duration of at least two hours, plus email contact for continued support throughout the mentorship.
1. The first session will include a portfolio review and discussions on themes like portfolio editing, presentation and visual language.
2. During the second session, one of the photographers currently represented by Wren Agency will advise the winner on different career pathways, setting career goals and how to reach them. (Which Wren photographer will conduct the session will be established once the call is closed, based on availability and who may be the best match for the winning photographer).
3. Finally, the last session will be centred on creating a strategy for the winner towards moving forwards with their development. There is the potential in this session to discuss either representation with Wren Agency or possible opportunities within Wren Agency's wider network (which comprises agents, agencies, galleries, production companies, publishers, magazines, etc.)
Who can participate, and in what categories
Only FotoRoom members can enter #FotoRoomOPEN | Wren Agency edition. Remember: signing up gives you access to not just one but all #FotoRoomOPEN calls that run while you're a member, on top of unlocking resources like our useful FotoCal. Become a member today!
Members can enter in three categories:
— Single Image (open to both Amateur and Pro members)
— Portfolio (open to Pro members only)
— Series (open to Pro members only).
IMPORTANT NOTES — PLEASE READ THESE!
#FotoRoomOPEN | Wren Agency edition is open to all photographers, no matter what your age, gender or nationality is. The mentorship can be conducted remotely, so you can apply from wherever you are. The call has no theme: you're free to submit any work regardless of subject, style or approach. Anything goes!
Please note that only participants in the Portfolio and Series categories are eligible for the opportunity offered by Wren Agency.
The winning entries in all categories, as well as a selection of shortlisted submissions, will be published on FotoRoom's website and Instagram feed.
Submission Guidelines
Entrants in the Single Image category should send a maximum of 3 images.
Entrants in the Series category should send a maximum of 15 images from the same project.
Entrants in the Portfolio category should send a maximum of 15 images, not necessarily from the same project (think of it as a selection of your best work).
Images should be in .jpg format and low-res (no larger than 1440px on the short side and no heavier than a few MB each), and must be sent via WeTransfer to calls@fotoroom.co along with a text document that includes the following information about you
— Your full name
— A short text, introduction or project statement (if you're submitting to the Series category).
— A link to your portfolio website (if you have one)
— An email address we can use if we need to get in contact
— The email address you used to sign up as a FotoRoom member (in case it's different from the contact email)
To say it with an image, the folder of materials to send should look like this (notice the text file at the bottom):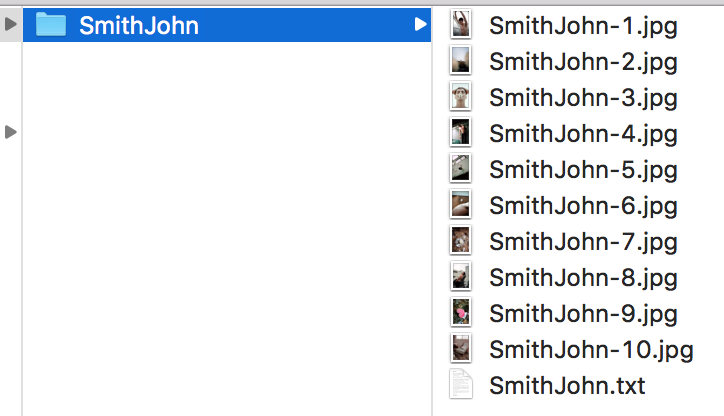 Copyright and Terms of Use
All submitted images must be in the sole ownership of the entrant and not infringe on the copyright of any other party; full ownership of the copyright for every submitted image remains with its author.
By submitting your images to #FotoRoomOPEN | Wren Agency edition you grant FotoRoom the possibility to use the submitted images—properly credited—on its website and social media with the exclusive purpose of promoting your work and the FotoRoom platform.
The Deadline
#FotoRoomOPEN | Wren Agency edition will close next 15 July 2019 at midnight (Central European Time). Winners will be announced in September 2019.