Enter #FotoRoomOPEN and Win a Three-Year Contract with Picture Agency Millennium Images
We are happy to announce that for the latest edition of #FotoRoomOPEN we have partnered up with London based picture agency Millennium Images. The agency has generously offered to add the winner's photos to their extensive image library and have him/her sign the three-year contract that all its current contributing photographers have signed. Read on for all the details, submit your work, and good luck!
The Juror — Millennium Images
Millennium Images is a London based company founded over twenty years ago by Jason Shenai. Primarily, Millennium Images sells image reproduction rights for publication in magazines, advertisements and on book covers, but they also sell photographic prints and offer portfolio reviews.
Unlike most stock photography companies, Millennium Images aims to offer quality creative photographs that can "bridge a common gap between artistic endeavour and commercial success": to this end they work with talented and often emerging contemporary photographers, part of whom they connect with through their ties with photography universities and festivals. Some of their current contributing photographers are Niall McDiarmid, Robert Darch, Edgar Martins, Laura Thompson, Estelle Lagarde, John MacLean and Kate Peters.
The Opportunity — Sign a three-year contract with Millennium Images
Millennium Images are happy to offer the winner of this #FotoRoomOPEN edition the opportunity to add his/her images to their picture library, which counts over 65,000 photographs and has been used by international clients such as New Scientist Magazine, New Statesman, Marie Claire, Harper Collins, Penguin Random House, Pan Macmillan, the Paris Opera and the Royal Shakespeare Company.
More precisely, Millennium Images is offering the winner the same three-year contract that their contributing photographers typically sign. In brief, the contract establishes that the photographer grants the exclusive right to Millennium Images to sell reproduction rights of any of his/her images accepted to the company's picture library for a minimum of three years (in respect of each image); any money received by Millennium Images from selling the image rights is divided between Millennium Images and the photographer in a 50:50 ratio (after any expenses have been deducted).
Copyright stays with the photographer, who can continue to use the images to promote his/her own photography such as in a portfolio, exhibition or book or on his/her own website, but he/she may not license reproduction rights of the images to other agencies.
Who can participate, and in what categories
Only FotoRoom members can enter #FotoRoomOPEN | Millennium Images edition. Remember: signing up gives you access to not just one but all #FotoRoomOPEN calls that run while you're a member (a new one opens every two months), on top of unlocking resources like our useful FotoCal. Become a member today!
Members can enter in three categories:
— Single Image (open to both Amateur and Pro members);
— Series (open to Pro members only).
— Portfolio (open to Pro members only).
It's currently not possible for Pro members to submit more than one series, but they can submit in all three categories open.
It is possible to submit a collaborative project to the Series category as long as each photographer involved in the project is a Pro member.
Important notes — please read these!
#FotoRoomOPEN | Millennium Images edition is open to all photographers, no matter what your age, gender or nationality is. The call has no theme: you're free to submit any work regardless of subject, style or approach. Anything goes!
Please note that only entrants to the Series or Portfolio category are eligible for the three-year contract offered by Millennium Images. In the circumstance that Millennium Images, at their exclusive discretion, did not deem any of the applications a good fit, the "prize" will remain unassigned.
The winning entries, as well as a selection of shortlisted submissions, will be published on FotoRoom's website and Instagram feed.
Submission Guidelines
Entrants in the Single Image category should send a maximum of 3 images.
Entrants in the Series category should send a maximum of 15 images from the same project.
Entrants in the Portfolio category should send a maximum of any 15 images (without the restriction that they should belong to the same project).
Images should be in .jpg format and low-res (no larger than 1440px on the short side and no heavier than a few MB each), and must be sent via WeTransfer to calls@fotoroom.co along with a text document that includes the following information about you:
1. Your full name
2. A short text, introduction or project statement (if you're submitting to the Series category).
3. A link to your portfolio website (if you have one)
4. An email address we can use if we need to get in contact
5. The email address you used to sign up as a FotoRoom member (in case it's different from the contact email)
To say it with an image, the folder of materials to send should look like this (notice the text file at the bottom):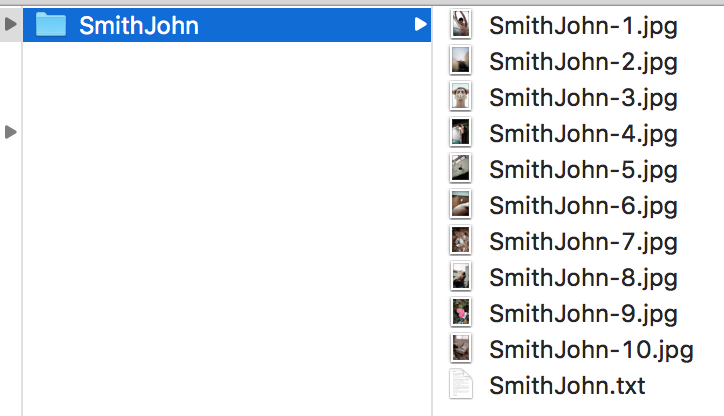 Copyright and Terms of Use
All submitted images must be in the sole ownership of the entrant and not infringe on the copyright of any other party; full ownership of the copyright for every submitted image remains with its author.
By submitting your images to #FotoRoomOPEN | Millennium Images edition you grant FotoRoom the possibility to use the submitted images—properly credited—on its website and social media with the exclusive purpose of promoting your work and the FotoRoom platform.
The Deadline
#FotoRoomOPEN | Millennium Images edition will close next 15 February 2019 at midnight (Central European Time). Winners will be announced in March 2019.